Headphone manufacturer Audeze and spatial audio specialist Embody have announced the revamped Reveal+ virtual studio plug-in, harnessing cloud computing and artificial intelligence to mix virtually on Audeze headphones.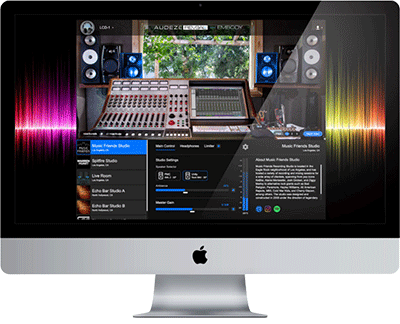 Reveal+ gives promises 'a visceral experience of feeling like they're in a world-class studio without being there', allowing music producers to make better-informed mix decisions.
The system's Head Related Transfer Function (HRTF) has been made more precise, with Embody's enhanced AI algorithms claiming the most accurate spatial listening experience available on headphones. With an additional control parameter called HRTF Intensity, users can also now adjust the sound field depth in order to hear finer details in a mix.
Virtual studios designed and operated by Grammy and Multi-Platinum award-winning artist Bob Horn and Erik Reichers, Echo Bar Studios, have been added to the Reveal+ library, along with the Diamond Suite control room at SAE Expression College in Emeryville, California. The user interface has been update to offer 'sleek and intuitive' operation.
In the new release of Reveal+, Embody has enhanced its artificial intelligence-driven technology called Immerse, which computes a personalised audio profile or HRTF in under 30s. Immerse has an improved ear extraction feature, which produces a better personalised HRTF. Audio panning is also made more manageable to declutter a mix. The greater sense of depth allows hear timing and phase correlations to be better heard revealing details in a mix more accurately.