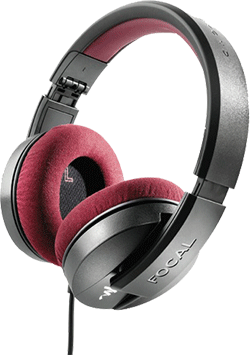 Focal has released the Listen Professional headphone model for music production.
Listen Professional are over-ear closed back headphones with a head-band boasting comfort and durability – it's curve remains consistent, regardless of the shape or size of the user's head. Combined with the layer of silicone underneath the headband, this ensures that the weight is spread evenly over the head, preventing pressure in any specific area.
Focal drew inspiration from the research carried out when developing Elear and Utopia headphones on a real miniature full-range speaker driver. This time, the speaker driver has been given a 100% Mylar suspension, whereas the central dome is composed of a Mylar/Titanium alloy to provide more rigidity and extended frequency response in the upper end of the spectrum. Thus, the moving part is extremely light, enabling the transducer to exceed 40kHz on a flat baffle. The reproduction of the bass and sub-bass registers combines a tuning frequency which is as low as possible, with extremely low distortion (0.3% at 1kHz – 100dB).
Microfibre provides a more linear bass register and favors acoustic output, whereas the acoustic tissue, which is closer to the speaker driver, offers great absorption and linearity in the 3-9kHz register. The bass and also the lower mid-range registers claim tonal balance and articulation where compression and frequency response generally suffer on closed-back headphones. The upper mid-range has great precision and high definition in order to emphasize any imperfections in the equalization or the adjustment of the levels of the various tracks in relation to one another.
Listen Professional headphones come in a rigid carrying case is supplied with the headphones. Relatively compact, it ensures a high level of protection against impacts. There's also room for a cable and an iLok key. Two low impedance OFC cables are also supplied – a 16ft (5m) coiled cable with 3.5mm jack plugs at each end for professional use, with a 3.5mm to 6.35mm jack adapter provided for using the headphones on a mixing console or audio interface. A second, straight cable (4.5ft/1.4m) equipped with a multi-function remote control and an omni-directional microphone is supplied for using Listen Professional with a smartphone. Both of these cables feature a locking mechanism to prevent the cables from accidentally becoming disconnected.
Listen Professional headphones are now shipping, US street price of US$299.