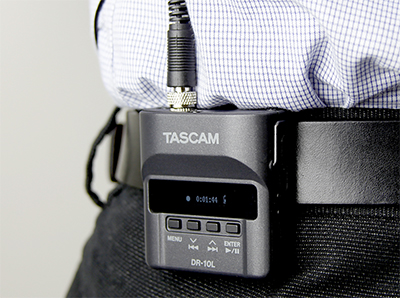 Tascam has introduced the DR-10L ultra-compact videographers' recorder with lavalier microphone, 'an easily concealed package that eliminates the uncertainties of wireless microphone systems'.
Featuring a professional-quality lavalier microphone and ultra-compact body pack, the DR-10L captures 48kHz/24-bit Broadcast WAV files to tiny microSD or microSDHC cards, powering through up to ten hours of recording on a single AAA battery. Clip it to talent and press record to capture audio, even if they stray off camera or out of wireless range.
Like its siblings, the DR-10X plug-on ENG recorder and the DR-10SG shotgun mic recorder, the DR-10L offers professional features, including a built-in limiter to prevent distortion, low-cut filter to reduce wind and rumble noise, and a bright OLED display that's easily readable in direct sunlight. Tascam's Dual Recording mode captures a lower level safety track to safeguard against unexpected source level spikes.
For event videographers, the DR-10L is portable and economical enough to use multiple systems, while for interviews and documentaries, it's small enough to use in tandem with a traditional RF system for a high-quality backup recording.
The DR-10L is expected to ship in Q4 2016, and will be available for pre-order through Tascam professional dealers at a street price of US$199.99.
More: www.tascam.com