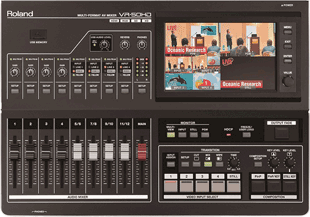 The Roland VR-50HD is a dedicated A/V mixer with outputs for web streaming and recording – integrating an audio mixer, video switcher, multi-viewer touchscreen and USB video/audio streaming into a standalone device controllable by a single operator.
Joining Roland's VR Series – which includes the VR-5 and VR-3 A/V mixers – the VR-50HD is aimed at live events for schools/churches, corporate events, sports, training and production live to web
The video side of the mixer offers a 12-input, four-channel multi-format video switcher that also includes a still store channel for graphics, logo or frame capture. Inputs can be 3G/HD/SD SDI, HDMI, RGB/component and composite. Outputs include USB and both a Main and Aux bus, both available via SDI, HDMI and RGB/Component connections. An additional HDMI output is included for an external multi-viewer monitor.
The audio section is based on a 12-channel digital audio mixer with 12 analogue inputs and four SDI or four HDMI inputs. Audio processing includes audio-follow settings as well as gates, compression, PEQ, delay, reverb and mastering capabilities on the main output. Audio is mixed and re-embedded into the SDI, HDMI, and analogue Main and Aux buses, as well as the USB output.
The USB 2.0/3.0 output connects to a computer running a live streaming service such as UStream. Recording uses QuickTime or the dedicated Window/Mac capture software, Video Capture for VR.
The interface hasdedicated audio faders, gain knobs, video input selectors and a touchscreen monitor to view and operate menu functions and switch video sources, and can provide multiple views including a four or seven channel multi-viewer configuration.
The VR-50HD is HDCP compliant, which allows mixiing of copy-protected game, tablet and Blu-ray content with other computer and camera sources.