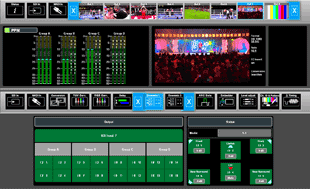 Lawo has announced 'several significant' new features for its V__pro8 Video Processor in the release of software v1.0.4.
Among the enhancements to the V__pro8 is the ability to handle two surround downmix (downfold) engines per SDI output. With this new capability, users can create stereo downmixes from 5.1- or 7.1-channel discrete surround audio tracks and embed these on the outgoing SDI so that stereo audio accompanies the discrete surround audio channels.
The ability to monitor embedded audio via Madi has also been added. While feeding Madi to an audio mixing console, users can now listen to/monitor each outgoing embedded audio channel on various SDI outputs.
The software update also adds level adjustment (-60dB/+12dB) for the audio outputs, to allow the audio levels to be adapted to specific user reference level requirements.
'We are very proud of our new video processor and response from the field to the product has been extremely positive,' says Felix Krueckels, Lawo Senior Product Manager. 'As part of our ongoing efforts to continually improve the capabilities of all our products, these new features add greater functionality that, I'm certain, will prove highly beneficial to both present and prospective users.
Software Version 1.0.4 for the Lawo V__pro8 is available now via the Lawo Download Center.
See also:
More: www.lawo.de