Joining the V-4 and V-8 in Roland's live performance video mixer lineup, the V-4EX advances the V-4 four-channel model by adding HDMI inputs/outputs, USB streaming, HDCP support, built-in touch multi-viewer as well as audio embedding.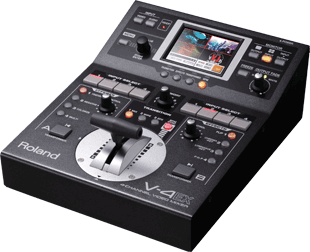 The V-4EX is aimed at a variety of applications, including clubs, concerts, houses of worship, events, meetings, training, education and sporting events. The compact design also makes it suited to both portable applications and permanent installations where a small footprint is required.
The V-4EX incorporates a video switcher, audio embedding, preview monitor and streaming-ready USB output in a single unit. Inputs 1-3 feature composite (BNC) or HDMI while Input 4 accepts HDMI, RGB/Component or S-video. The output boasts scaled-up HDMI, RGB/component, or SD composite with an additional HDMI output for external preview monitor. In addition to a number of video effects, the user interface incorporates dial controls for effects on each bus and master output dial.
A stereo RCA audio input allows audio embedding into the HDMI outputs and USB stream – useful for web streaming and recording applications. As a USB Video/Audio class device, web streaming required connection to a computer running a live streaming service. The output can also be recorded using Roland's free Video Capture for Windows software or by using QuickTime on a Mac.
The V-4EX features a built-in audio mixer with up to four frames delay to 'lip-sync' a video source and also supports HDCP video for mixing copyright protected material such as game consoles and Blu-ray content in a live production. HDMI Inputs 1-3 accept video resolutions up to 480p/576p and HDMI Input 4 accepts resolutions up to 1080p and RGB up to WUXGA (1920x1200). Although internal processing is SD-based, the output can be scaled up to 1080p or 1920x1200.
The Roland V-4EX is expected to ship in March 2013.