Wohler Technologies has launched WohlerCoder and WohlerConverter,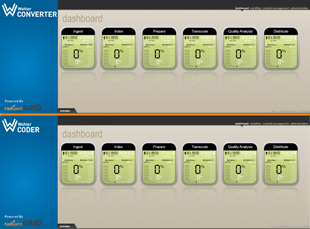 Calling on proprietary technologies gained through Wohler's recent acquisition of RadiantGrid Technologies, these enable faster than real-time, file-based transcoding and standards conversion.
WohlerCoder is an intelligent file-based solution that performs grid-enabled transcoding. It claims an 'optimal balance of performance and speed' to support multiplatform transcoding and transwrapping for high-volume workflows, while maintaining quality standards. Users can process media in batch mode, transwrapping mode, or employ RadiantGrid's exclusive TrueGrid mode to create VirtualSlices and optimise the number of available workers for transcode operations.
WohlerCoder is offered as a standalone, turnkey transcoding tool capable of highly efficient parallel processing, thus serving as an attractive file-based alternative to inefficient and costly transcoder/baseband hybrid workflows.
WohlerConverter is being presented as the industry's most robust transformation engine for file-based standards conversion and frame-rate conversion while transcoding. Built on technologies from RadiantGrid and partner Cinnafilm, it enables quality management and advanced algorithmic processing within video and audio streams during content preparation or transcoding. The system is offered as a turnkey file-based solution for accelerated media transformation that can run multiple concurrent frame-rate conversions and/or transcodes to transform high volumes of content.
WohlerConverter is able to handle difficult tasks such as automatic cadence correction, mixed and/or broken pulldown repair, and conversion of sub-HD content to 2K and 4K resolutions. The solution offers compatibility with AS-11 (DPP), ancillary data handling, and basic content management including process on-demand.
More:
www.wohler.com