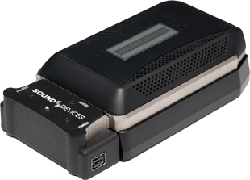 Sound Devices PIX-Dock connects drives mounted in a Sound Devices PIX-Caddy 2 to computers equipped with Thunderbolt high-speed I/O over a single Thunderbolt cable.
The PIX-Caddy 2, which is used to connect SSD volumes to all PIX recorders, is an SSD mounting accessory that also operates as a multi-format interface to attach drives to a computer for file transfer and management. With PIX-Dock, Thunderbolt's fast transfer between drives and computers – up to 10Gbps, making the file copying of large-capacity drives fast and easy. When using fast storage drives, its high throughput allows real-time playback of multiple streams of high-data-rate video.
The PIX-Dock provides both power and data over a single cable and is compatible with SATA drives. It includes a six-foot Thunderbolt cable that connects to the PIX-Caddy 2 using its eSATAp connection. It also offers a secure, latching connection to PIX-Caddy, and its weighted base prevents sliding on desktop surfaces.
'After a successful launch at NAB, PIX-Dock is available,' says Jon Tatooles, Sound Devices MD. 'PIX-Dock simplifies and speeds the transfer and management of files when using our PIX recorders. By using Thunderbolt, we are able to provide blazing fast and reliable transfers.'
The PIX 220i, PIX 240i and PIX 260 record directly to QuickTime using Apple's ProRes or Avid's DNxHD codecs. Since PIX recorders use ProRes and DNxHD, files recorded in the field can be used directly in postproduction, making the workflow simple and fast. The PIX 240i and PIX 260 add even more flexibility, with their time code, sync-generator, and simultaneous SDI and HDMI outputs.
More: www.sounddevices.com