Roland Systems Group has added the V-800HD Multi-Format Live Video Switcher for live performance and events as well as corporate productions and web streaming.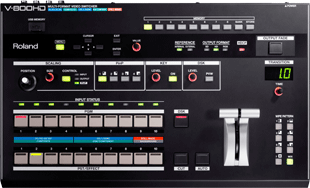 As with the V-1600HD switcher the V-800HD is a true multi-format HD video mixer meaning there is no need to convert the input source so that they are all the same or to match the video output format as the built in broadcast quality scalers on all inputs can individually scale, stretch, crop and zoom any video source to the optimal resolution. This offers full support not only for video cameras but also for computer outputs at a full range of resolutions. It supports 1080p video signals at bit rates as high as 3Gbps – twice the rate of conventional HD-SDI.
The V-800HD is HDCP (High Bandwidth Digital Content Protection) compatible and features a built-in multi-viewer output that provides a convenient monitoring solution of all input sources, plus the Program and Preview outputs, when connected to an HDMI monitor. The eight mixing channels provide connectivity to four 3G/HD/SD-SDI or composite and four DVI-A/DVI-D/HDMI, RGB or component formats – as well as an additional two channels for still images assignable via USB memory stick or frame grab. A 15-pin D-Sub type connector accommodates SD/HD component as well as computer input via analogue RGB.
As well as upgraded 4:4:4/10-bitinternal signal processing, the V-800HD includes a newly developed key-compositing engine that lets you adjust phase range, amount of chroma, and other parameters based on HSV colour space. This feature enables high quality chroma key compositing even when using 1080p video sources. Another key compositing feature includes an external keyer enabling colourful CG titles and gradation clips.
Assignable video crosspoints allow the reordering of channel buttons (instead of the numerical order of the connectors on the rear panel) which is especially useful when sudden changes in camera lines or differences in formats create blank spaces between select buttons on the bus. A dedicated composite output provides an always available down-converted SD signal that is ready to use for archiving to a DVD recorder or to an encoder for streaming.
The Multi-Zoom feature can be enabled when one video input is shared internally with up to three more inputs – essentially daisy-chaining it. The scaler for each input can zoom into any position in the video image giving the appearance that additional cameras are connected – creating a virtual multi-camera environment. Additional effects include a down stream keyer (DSK), a composite keyer, Picture-in-Picture and multiple transitions.
The V-800HD can be used in a system design and creative production environment as well as for live or fixed installation applications, including those with LED wall sizing challenges.