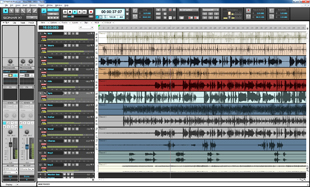 Roland Systems Group (RSG) has introduced the Roland REAC Driver Kit for the V-Mixing System.
The REAC Driver Kit enables recording of 40 simultaneous audio tracks into Sonar X1 Producer software via one Cat5e/6 cable from a REAC System to a PC Ethernet Port.
The kit is sold separately from Sonar X1 Producer and is intended for use with the Roland V-Mixer Consoles M-480, M-380, M-400 and M-300. It is also compatible with Roland S-4000 and S-1608 Digital Snake Systems. An integrated and cost-effective solution, it is intended for recording live performances with the V-Mixing System components.
The REAC Driver Kit can be purchased from Roland Systems Group authorised resellers from April 2012.