Altinex has added the TNP128 and TNP128C (custom) Interconnect Boxes to its Tilt 'N Plug interconnect line.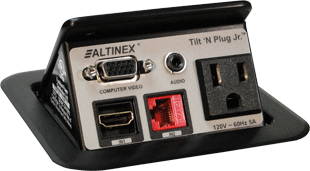 Available in standard and custom configurations, the boxes offer convenient, one-touch access to a variety of video, audio, computer, network and US power connections for boardroom and conference room tables.
The standard TNP128 provides a single input plate with HDMI, VGA, Network (RJ-45 F-M) and computer/MP3 (3.5mm F-M) input connections. It also provides an AC Power connection suitable for use throughout the US and Canada.
The TNP128C is highly customisable, with more than 27 different connector options – including USB, S-Video, RCA and BNC – all factory-configured and terminated. Each connector comes with a 6-ft (2m) cable and is terminated appropriately for quick connections to an audiovisual system (wall plate, floor plate, etc.).
'Our TNP128 and TNP128C Tilt 'N Plug interconnect boxes are the ideal boardroom choice for creating a quick and convenient means of patching equipment into a company's data network or presentation system,' says Grant Cossey, Altinex Vice President of Sales. 'With its ability to be customised in so many ways, the TNP128C offers tremendous flexibility for configuring a presentation space exactly to one's preferences. The TNP128C's bezel is available in black or brushed aluminum, as well as the new black and white mirror finishes from our recently introduced Reflection Series. With the quick, easy access these units afford combined with their elegant design; the TNP128 and TNP128C create a high-tech visual aesthetic that compliments the décor of any boardroom or presentation space.'
The TNP128 and TNP128C Tilt 'N Plug interconnect boxes are available now, with a MSRP price of US$425 and US$455 respectively. An additional charge applies when a Reflection Series cover/bezel is selected.
More: www.altinex.com