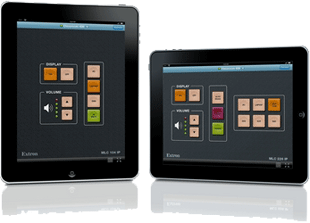 An A/V control system app, MediaLink provides control of up to 12 rooms with an installed Ethernet-enabled MediaLink controller – such as the MLC 104 IP Plus or the MLC 226 IP. Within the app, each button press is tracked between the app and the controller, allowing both to stay in sync. Presenters can wirelessly control an A/V system over Wi-Fi network, with freedom to move throughout the room.
As with MediaLink, Touchlink provides an additional point of control for TouchLink Touchpanels, allowing presenters to control different rooms. It offers the same Button Tracking and relays real-time status and remote control of multiple rooms for troubleshooting and management.
MediaLink and TouchLink presently support the iPad and iPad 2.
More: www.extron.com