Altinex has introduced the SR208-100 fixed output resolution VGA-to-VGA video scaler.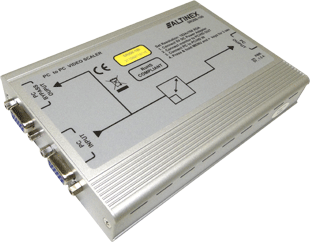 The SR208-100 is designed to upscale or down-scale standard PC videos to any of several popular PC/HD resolutions. In applications where there are many different input sources (such as laptops) interfacing with a fixed monitor or projector, the SR208-100 converts these sources to a single output resolution optimised for the display device.
The unit provides automatic scaling of all input signals. The unit outputs both VGA and HDTV resolutions. Supported resolutions include VGA (640 x 480), SVGA (800 x 600), XGA (1024 x 768), SXGA (1280 x 1024), UXGA (1600 x 1200), WXGA (1280 x 768), WSXGA (1680 x 1050), WUXGA (1920 x 1200), 480i, 480p, 576i, 576p, 720p, 1080i and 1080p.
In addition to scaling video, the SR208-100 has built-in set-up menus that are accessible using three pushbuttons on the output side of the chassis. These facilitate adjustment of colour levels, contrast, brightness, output resolutions, aspect ratio, horizontal and vertical positioning. A bypass output is provided for use with a local monitor or other device to enable a presenter, for example, to have a personal video monitor nearby while the audience views a larger display. The bypass output is a buffered output and is equivalent to the PC input for resolution and refresh rate. The bypass output is not scaled.
'The SR208-100 is one of those indispensable Swiss Army knife tools that make it easy to adapt different display resolutions in today's A/V presentation environment,' says Grant Cossey, Altinex VP of Sales. 'This PC to PC scaler offers simple setup and configuration and is ideal for use with fixed resolution monitors. This is a cost effective solution to matching display resolutions, which is one of the more common challenges encountered with modern A/V systems. I'm confident this unit will be well received.'
The Altinex SR208-100 VGA to VGA Video Scaler includes a VGA cable, an external power adapter, plus three AC plug adapters. The US MSRP for the SR208-100 is US$640.
More: www.altinex.com