BenQ America Corp has introduced the MW860USTi and MP780 ST+ interactive short-throw projectors.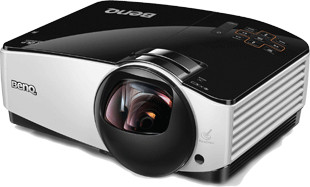 Offering ultra-short-throw ratios of 0.37 and 0.49, respectively, the new models feature BenQ's second-generation PointDraw interactive projection technology with dual pen support – this comes with the PointDraw Pen 2.0, which offers remote interactivity up to 25 feet away from a board or projection surface. Dual pen control is supported by QDraw 2.0 interactive software. Like its predecessor, the second-generation PointDraw technology requires no system calibration.
'With the second generation of PointDraw, we've taken interactivity to an entirely new level by doubling the functionality PointDraw offers. With this amazing technology, the MW860USTi and MP780 ST+ are the most advanced interactive tools available on the market,' says BenQ America Corp President, Lars Yoder.
Key features:
• DLPLink 3D visualisation.
• WXGA short-throw projection increases the viewing area by 30 pe rcent compared to XGA
• 20W built-in speaker power with audio pass-through and microphone input.
• LAN Display and USB Display options.
• USB Drive Display and Remote Desktop provide remote access via a wireless mouse and keyboard over LAN.
The MW860USTi and MP780 ST+ are available with US MSRPs of US$2,499 and US$2,099 respectively.
More: www.benq.com