Altinex has introduced a Reflection Series mirror surface for its Tilt' N Plug interconnect boxes.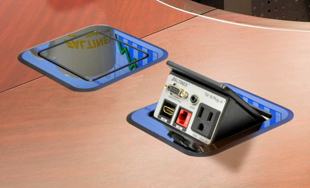 Available in black and white, these consist of a top cover and a bezel for use with most Altinex Tilt' N Plug Series interconnect boxes. Using the same material found in many tablet computers and smartphones, the reflective glass is attached to a metal substrate in order to provide a very strong surface that is highly resistant to damage. A coating is applied to the surface that minimises fingerprints.
The Reflection Series mirror surface is available as a custom order item. As an example, a standard TNP121 interconnect box has a black brushed aluminum finish while a TNP121C is available in either the black or white mirror finish (extra charge) or a clear brushed aluminum finish (no additional charge).
'The Reflection Series mirror surfaces represent a dramatic step forward for our interconnect products,' says Grant Cossey, Altinex VP of Sales. 'Not only is the black finish the world's first black mirror surface, it is incredibly robust. These new finishes are scratch resistant, fingerprint resistant, and can be cleaned as easily as one would wipe down a smart phone to maintain their appearance. The precision quality with which they are engineered presents a high-end visual appeal that complements the most hi-tech presentation space.'
Pricing for the Reflection Series mirror surfaces ranges from US$495 to US$675, depending upon the specific model of the Altinex Tilt' N Plug interconnect box. Customers can configure table-top units with the mirror surface via the Altinex website or by contacting their representative
More: www.altinex.com