Altinex has released the TP115-352 Transmitter and Receiver for transmitting HDMI signals up to 1080p over long distances by means of a single Cat6 cable. The system is intended for use in conference facilities, lecture halls, presentation facilities and houses of worship where video signals need to be sent over long distances.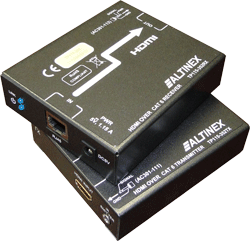 Upon receiving the HDMI output from a source device such as a Blu-ray Disc player, the TP115-352 converts the HDMI video and audio signals into a digital format for transmission over the Cat6 cable. At the display end, the TP115-352 receiver converts the digital signal back into the standard HDMI format for connection to a display, TV, or other device. The combination of transmitter and receiver supports HDMI 1.4a, HDMI 1.3, 3D, 2k x 4k, DVI 1.1, as well as HDCP (High-bandwidth Digital Content Protection) 2.0.
PC resolutions supported by the system include 800 x 600, 1024 x 768, 1280 x 720, 1280 x 768, 1360 x 768, 1366 x 768, and 2000 x 4000. For Apple computers using DisplayPort to HDMI adaptors, resolutions of 1920 x 1080, 1280 x 720, and 1360 x 768 are recognised. All VESA (Video Electronics Standards Association) defined resolutions are supported.
At 1080p, the HDMI signal can be transmitted up to 300 feet. As for audio formats, the TP115-352 handles PCM (Pulse Code Modulation) 2-channel audio, 5.1 and 7.1 surround sound, with support for signals encoded using DTS-HD, Dolby Digital, and Dolby Digital Plus.
In addition to HDMI transmission, the TP115-352 pair allows for a remote control's IR signal to pass from the receiver back to the transmitter in order to control the video source (Blu-ray, DVD player) from the display location. This IR capability requires the purchase of the AC301-111 IR emitter and the AC301-112 IR receiver. The IR transmission supports single-press functions.
'The TP115-352 pair provides today's A/V integrator tremendous flexibility when it comes to the distribution of the most commonly encountered HD signals,' says Grant Cossey, Altinex Vice President of Sales. The straightforward design of this transmitter/receiver pair makes installation easy, and with full FCC, CE, RoHs, and HDMI ATC compliance, this equipment can be deployed just about anywhere. The TP115-352 Transmitter and Receiver is a great solution for transmitting video and audio over long distances. I'm confident A/V consultants, integrators, and installers will find this a cost effective solution to a myriad of signal distribution challenges.'
The Altinex TP115-352 Transmitter and Receiver carry a US MSRP of US$675. The optional AC301-111 IR Emitter is US$12 and the AC301-112 IR receiver is US$8.
More: www.altinex.com