Røde Microphones has announced the VideoMic HD, a high-fidelity, precision RF bias shotgun microphone with integrated digital recording, designed for use with DSLR and large-sensor video cameras.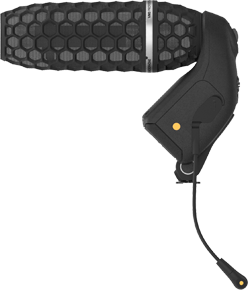 The VideoMic HD's audio is directly derived from Røde's flagship NTG3 professional shotgun microphone – incorporating the same capsule and sharing much of the electronic design of the NTG3, the VideoMic HD is a true condenser super-cardioid shotgun microphone with RF bias technology. This makes it virtually immune to RF interference and condensation that can cause condenser mics to fail.
Røde has incorporated a high-quality digital recorder into the body of the VideoMic HD. This completely removes the requirement for a separate audio recorder, while still also providing throughput of the audio signal to the camera for a superior reference audio track. File storage is via microSD card and a microUSB port is supplied for convenient file access and possible firmware updates.
An integrated headphone jack with level control allows monitor of recording in real-time, while a high contrast LCD on the rear of the microphone provides visual metering as well as basic recording control.
Audio capture and output can be configured in a number of ways thanks to the microphone's output selection. In default mode the VideoMic HD's audio is recorded and output as a dual mono signal. When in 'safety recording' mode, the microphone captures and outputs the standard audio signal on the right channel and a -20dB attenuated signal on the left channel. In case of unexpected boosts in the audio the user has a safety backup channel of audio that can be referenced. A third output setting allows for dual mono audio capture and a balanced signal output using the optional Røde VXLR 3.5mm to XLR adaptor.
The VideoMic HD offers a 3.5mm mono line in that supports 'plug-in' power, allowing for the connection of a secondary microphone such a lavalier or headset. The microphone's fourth output mode allows the tracking of the line-in to one of the stereo channels, both on the on-board recorder and through the 3.5mm output jack.
The microphone body is constructed from rugged, lightweight die-cast aluminium and features a quick release cam lever for simple and secure mounting in any universally sized camera shoe mount.
Drawing on the design architecture of the Røde Blimp, the VideoMic HD features a unique windshield and suspension structure – the capsule and line tube are completely suspended inside the microphone, providing shock mounting and isolation from physical sound sources through the microphone body, and the outer geodesic structure provides strength while offering superior wind protection to foam windshields. A DeadCat VMHD furry windshield is supplied with the microphone to provide protection in high wind environments.
More: http://rodemic.com/vmhd