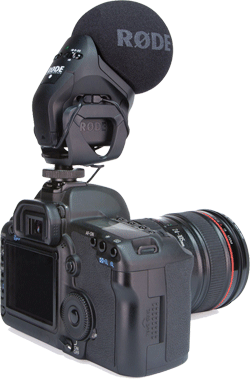 The latest on-camera microphone from the Røde Microphones stable is the Stereo VideoMic Pro.
Following the VideoMic Pro, which appeared launched in early 2011 and Røde's original Stereo VideoMic, the Stereo VideoMic Pro promises a high-quality stereo option for videographers for recording music and ambience.
Based around a matched pair of high sensitivity 0.5-inchcardioid condenser capsules in a coincident XY pair, the mic builds on the feature set of the VideoMic Pro, with an ergonomic form factor suited to DSLR, consumer camcorders and large-sensor video cameras. An integrated shockmount provides isolation from vibration and mechanical noise. Additionally, a lightweight yet robust multi-strand cable provides acoustic decoupling from the camera and offers significantly lower noise transference than traditional audio cable.
The user-friendly rear of the microphone body features the power and equalisation controls, including a high-pass filter at 75Hz which is designed to cut out the noise generated by air conditioning, traffic and other undesirable low frequency interference. A -10dB pad allows the user to reduce the sensitivity of the microphone, making it suitable for recording loud sound sources such as live music or at sporting events.
Like the VideoMic Pro, the Stereo VideoMic Pro features a +20dB level boost designed to provide a higher quality signal with DSLR cameras. When activated, the typically low quality camera preamp level can be reduced, resulting in a lower noise floor and much clearer recording.
'The release of the Stereo VideoMic Pro reaffirms Røde's category ownership of the on-camera microphone, and gives yet another tool to filmmakers, content creators and musicians' says Røde Microphones Global Sales & Marketing Director, Damien Wilson. 'The audio quality of this microphone really is outstanding, and I can't wait to hear some of the great content our customers will create with it.'
The Røde Stereo VideoMic Pro is shipping now.
More: http://rodemic.com/svmp