Roland Systems Group will use Makuhari's InterBee show to showcase its Roland VR-3 – an integrated audio mixer and video switcher for live production and web streaming.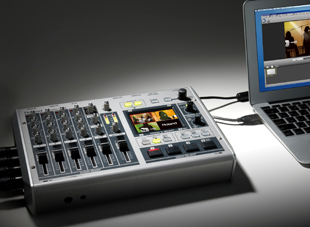 The unit combines Roland's audio and video technology and expands the company's lineup of A/V mixers and streaming-ready solutions. The VR-3 is extremely portable – the size of an A4 piece of paper and weighing 2kg. The reduction in hardware equipment, set-up time and connection it promises makes it well suited to use in schools, churches, public meetings, corporate events, sports or production live to the web.
Like the VR-5, the 'all-in-one' design of the VR-3 simplifies production and streaming of live events. The VR-3's innovative design incorporates a video switcher, audio mixer, preview monitors and streaming-ready USB output all in a compact unit. As a USB video/audio device (for web streaming or recording with a PC/Mac), web streaming is simply achieved by connecting the VR-3 via the USB port to a computer running a live streaming service such as Ustream.
This four-channel (mono on XLR or quarter-inch jack or two stereo inputs) video switcher/mixer also a built-in stereo microphone and a scan converter to enable the PC input to be mixed with other video sources. A touchscreen interface enables switching of video sources and access to menus, as well viewing of inputs and output at one time. Digital audio processing include noise gate, EQ, reverb, noise suppressor, enhancer and master lo/hi filters, while compositing video effects include keying, split screen and picture-in-picture.
The VR-3 will be available in Q1 2012 through Roland Systems Group's resellers.