Altinex has released the TP115-350/351 HDMI Over Coax Transmitter/Receiver pair, capable of transmitting HDMI signals of up to 1080p over via a single RG-6 coaxial cable.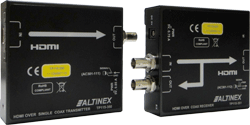 Aimed at conference facilities, lecture halls, presentation facilities and churches, the system allows video signals to be sent over long distances between source (such as a Blu-ray Disc player) and destination display. In addition to HDMI transmission, the TP115-350 / TP115-351 pair allows for a remote control's IR (Infrared) signal to pass from the receiver to the transmitter in order to control the video source from the display location. This IR capability requires the purchase of the AC301-111 IR emitter and the AC301-112 IR receiver. The IR transmission supports single press functions including power, play and stop.
For applications where multiple displays are required – such as screens on each side of a stage/altar area – each TP115-351 receiver has an additional coaxial output that can be used as the input by another TP115-351 receiver in the same area. This 'loop out' capability facilitates signal transmission for up to 20 receivers/displays from a single transmitter. Each TP115-351 receiver's coaxial output can transmit the same distance as the transmitter's main output.
'The TP115-350/351 provides today's A/V integrator tremendous flexibility when it comes to the distribution of the most commonly encountered High Definition signals,' says Larry Drum, Altinex Regional Sales Manager for the Central US. 'The straightforward design of the combination transmitter/receiver makes installation easy, and with the ability to cascade as many as 20 displays off of the source, having matching video displays throughout a facility is now well within reach at a price that is highly competitive.'
The TP115-350/351 has an MSRP of US$325 each (transmitter and receiver). MSRP for the AC301-111 IR emitter and the AC301-112 IR receiver is US$12 and US$8 respectively. All units are available now, with the exception of the AC301-112, which will be available by the end of November 2011.
More: www.altinex.com