Ciphertex Data Security has released the CX-Ranger-AV and CX-Ranger-AVX portable hardware-encrypted RAID solutions, offering highly-secure content storage from on-set to postproduction and delivery to distribution.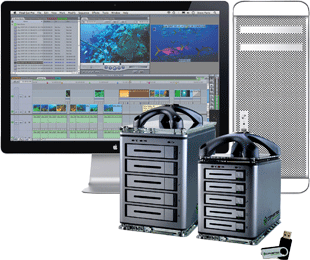 A global provider of powerful and affordable data-security products with a record of support for government, military and forensic applications, Ciphertex has developed the line specifically for the content-creation industry. The M&E community has been plagued by stolen or duplicated video footage while in transport. The CX-Ranger-AV Series eliminates this risk with key based hardware-encryption technology that does not hamper performance.
Configured for portable mobile environments, and fully compatible with OS-X, Windows and Linux , the CX-Ranger-AV Series offers three interface options, including FireWire 800, eSATA, or USB 3.0, via a swappable user I/O. It comes with five 2.5-inch drives with up to 5Tb of storage capacity, and the CX-Ranger-AVX with five 3.5-inch drives and up to 15Tb of storage. With both units, the data throughout is unaffected by the encryption process and will sustain AV playback and transfer rates well over 200Mb/s with the eSATA interface which comes standard.
'CX-Ranger-AV or AVX is an ideal choice for the media and entertainment industry,' says Don McDonell, Ciphertex VP Sales & Marketing. 'The stored digital assets are hardware-encrypted during ingest and cannot be replayed without a companion key, or dongle, that is uniquely keyed to the specific disk drive or array. The key management system used for the new CX-Ranger-AV Series is identical to the proprietary technology we developed for the financial, medical, law-enforcement and forensic industries, where we guarantee our customers a totally secure end-to-end solution. The CX-Ranger-AV Series not only stores data efficiently but it also handles the throughput demands for audio/visual editing and production, video postproduction, graphic design and digital photography.'
Contemporary media production requires enhanced digital-data capacities, increased data mobility and ultra-secure asset protection. 'Hardware-based encryption is the only truly reliable way to ensure that media assets cannot be stolen or otherwise acquired during a film or video shoot and subsequent post production and delivery,' considers Jerry Kaner, Ciphertex president and CEO. 'The hardware-based AES 256-bit data encryption allows media companies to shield their data and control access to sensitive content throughout the production workflow. The CX-Ranger-AV Series of products fills this exacting requirement for a portable and highly secure system at an economical price.'
The compact RAID systems are bundled with award-winning NovaBackup data-protection software and can be configured to RAID levels 0 through 5; the hot-swappable drives will accommodate enhanced-capacity sizes as they become available.
Key features:
• Transparent data security for all popular operating systems using 
 AES-256 hardware encryption.
• Modular, expandable RAID system for raw-format HD streaming 
 video and multitrack audio media.
• Compatible with Avid Media Composer, Pro Tools, Apple Final 
Cut Pro, Adobe Premier Pro and other NLE systems.
• Up to 15Tb of portable storage with real-time drive activity and
status indicators.
• Quiet fan system supports video and sound editing environments.
• Intuitive menu-driven GUI for streamlined RAID management.
More: www.ciphertex.com