Digital connectivity solutions provider Gefen has released the Toolbox KVM ELR (Extra Long Range) Extender for HDMI.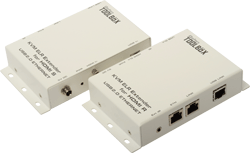 Allowing connection of laptops, PC media centres or any device using HDMI to a flat panel display or projector, the unit sends 1080p full HD video with USB peripherals, Ethernet connectivity and IR control using two Cat5 cables. 'The emphasis here is that you can extend hi-def video with your peripherals from a central location to wherever you wish to control them,' says Gefen President and CEO, Hagai Gefen.
Complete KVM functionality allows operation of a laptop, computer or video source from up to 330ft (100m), freeing users to access computers and laptops from another room. Small, wall-mountable sender and receiver units connect the computer or laptop to the remote display and keyboard/mouse. Both are available in a flat black or crème finish. Two USB ports on the receiver connect keyboard/mouse, printer, camera or any device using USB 2.0 connectivity.
Gefen's ELR technology is based on HDBaseT specifications, allowing the delivery of high-definition video with IR and Ethernet over the same industry-standard cable. A second cable is used to extend USB 2.0 signals from the source to the display at rates up to 480 Mbps.
The KVM ELR Extender for HDMI's sender and receiver come with locking power supplies and EDID management to eliminate potential signal loss.
More: www.gefen.com