BSS Audio has released the Soundweb London Blu-8v2 Wall Controller – an updated replacement for the original Blu-8 Wall Controller.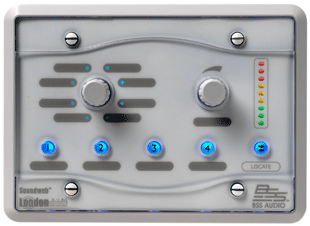 The London Blu-8v2 Wall Controller is available in white or black, and offers Ethernet connectivity, direct or PoE powering, multiple modes of operation, simple control and visual feedback, a sleep feature and a lockout feature. It shares the feature set and appearance of the original Blu-8 Wall Controller but benefits from a significant hardware upgrade. Under the surface, the Blu-8v2 has much in common with the rack-mount Soundweb London devices and this revised hardware design offers significant enhancement to networking functionality.
The Blu-8v2 features two rotary encoders, one nine-segment meter and five push-buttons. The device can be configured to work in one of three modes of operation.
RGB LEDs on the Blu-8v2 allow unique colours to be assigned to differed zones, giving visual feedback and a high level of user confidence in adjustments made to remote zones.
The Blu-8v2 joins the other members of the Soundweb London family to provide building blocks for tailored system solutions.
More: www.bss.co.uk