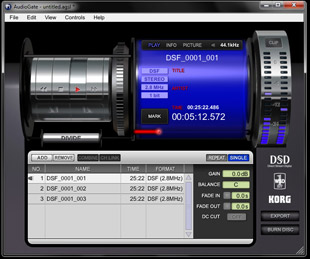 Version 2.2.0 of Korg's free AudioGate software – which enables the real-time playback of DSD/SACD files on any computer system, with any audio hardware – is now available for content creators and listeners.
AudioGate provides dithering algorithms, along with convenient editing tools such as divide, merge, normalise, fade-in/fade-out and DC cut. Users can convert from 5.6MHz or 2.8MHz 1-bit audio files to any other format, including 16-bit or 24-bit PCM at up to 192kHz, Apple Lossless or AAC, FLAC, Broadcast WAV (up to 32-bit floating supported) and MP3 formats. It can also be used to burn audio CDs, and the newer DSD Disc format (2.8MHz sample rate), which can be played back on a growing number of devices, such as Sony Playstations and Vaio computers.
New features:
Support for several of the new features of Mac OS-X 10.7 (Lion).
Auto sample rate switching; this function can automatically switch the sample rate of the audio device to match the sample rate of the current song.
Songlist function – can automatically open the most recent songlist when AudioGate starts.
Apple Remote support – AudioGate's Play, Pause, Fast-forward, Rewind, Next song and Previous song functions can be remotely controlled using the Apple Remote.
Support for the new WASAPI*1 audio driver, which is available with Microsoft Windows Vista and Microsoft Windows 7.
Korg's AudioGate software is included with all MR Series recorders.
Download: www.korguser.net/audiogate