Audinate has announced new tools for Dante Studio, an application within the Dante AV ecosystem that integrates PC applications with AV-over-IP.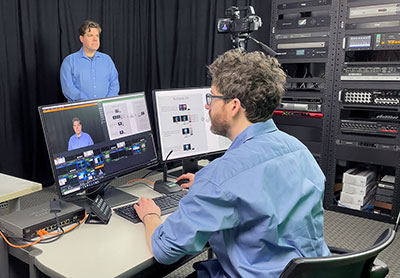 Dante Video TX is a virtual transmitter, while Dante Video Viewer is an application to view a video flow. Both work with Dante Video RX to provide system designers, integrators and end users a complete networkable A/V workflow.
Dante AV is a growing family of solutions that allow OEMs and users to deliver high-quality AV-over-IP over standard Gigabit networks. Dante Studio brings Dante AV Ultra, the family's premium solution – and soon Dante AV-H – into A/V production workflows. Dante Studio allows the use of high-resolution, low-latency Dante AV video directly in A/V production applications, such as OBS (Open Broadcaster Software) or platforms such as Teams and Zoom. Dante Studio enables IT and A/V managers to monitor all Dante AV cameras and sources on their network for confidence, making troubleshooting easy and solving problems before they are problems.
'Dante Studio was a natural progression of our vision to layer features and functionality onto connectivity and interoperability through software,' says Audinate Senior Product Manager, Laurence Crew. 'We saw that the PC was going to be playing an increasingly important role in corporate, worship, education and even production customer ecosystems, and we knew we needed to bridge the divide between AV and PC beyond simply connecting devices. The tools introduced today will facilitate frictionless workflow and provide advanced functionality to serve the emerging needs of our customers.'
Dante Video TX users can create a Dante video stream directly from the PC by capturing the Windows display output. With Video TX, users can share the entire PC screen to the network as a Dante AV flow.
The receiving channel, Dante Video RX, enables Windows PCs to receive video simply and seamlessly from any Dante AV-enabled source. Dante Video RX and TX supports 1080p resolution, 60fps and system timing and synchronisation, along with separate routing of video and audio elements. The tools will soon support 4K video and fit easily into Dante-based environments operating on standard 1Gb Ethernet infrastructures.
Separately, Dante Video Viewer is a standalone application for monitoring video signals coming from products on the Dante AV network. With this tool users can monitor Dante AV signals without the need for a dedicated video-related application. Additionally, Video Viewer can be used to display a video flow full screen on a PC computer, turning it into a Dante AV receiver.
'Dante Studio provides interoperability between software and hardware products in the Dante AV ecosystem,' Crew adds. 'Today's announcement equips integrators and end-users with professional-grade tools for better, specialised video networks.'
More: www.audinate.com