Roland's V-02HD MkII Streaming Video Mixer promises 'higher production values' for computer-based livestreaming, with connection and switching of two high-quality HDMI cameras to a favorite platform over USB-C.
Tagetting applications including talk shows, live demonstrations and artistic performances, users sers can connect up to two HDMI cameras to the V-02HD MkII free from USB conflict with multiple webcams and HDMI-to-USB encoder adaptors. Other devices with HDMI output are also supported, including computers, mobile devices and gaming consoles. The USB connection is plug and play, ready for instant streaming with platforms including Facebook, YouTube, Twitch, and Zoom or advanced workflows such as OBS Studio, Streamlabs OBS, StreamYard and Restream.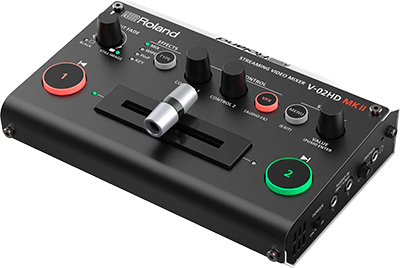 The V-02HD MkII includes a 10-channel digital audio mixer, offering two audio inputs on 3.5mm jacks, and each supporting mics including lavalier mics requiring plug-in power, stereo audio from a smartphone, mixer or other device. Users can mix embedded stereo audio from HDMI sources as well, including microphones connected to cameras.
The V-02HD MkII supports hands-free control with up to two optional Boss footswitches for creators who perform or give demonstrations during streams.
Out of the box, the V-02HD MkII provides the dedicated controls needed to switch cameras and make basic adjustments to video and audio sources, accompanied by advanced features and custom assignments. Connecting an HDMI monitor provides a display for setting up a wide selection of audio and video effects and footswitch assignments. And with one of Roland's free remote control apps, users can operate the V-02HD MkII via an graphical interface on iPad or computer.
Purchase of a V-02HD MkII provides free access to Roland's new AeroCaster Switcher for iPad, a video and media expansion solution for select Roland hardware switchers. With this app, users can switch wireless feeds from up to five devices – including smartphone and tablet cameras and screen shares from computers and mobile devices – and output a combined programme feed to the V-02HD MkII or another supported Roland switcher with HDMI input.
The V-02HD MkII Streaming Video Mixer is available for US$395.
See also:
Roland V-02HD Remote iPad app