Roland has introduced a dedicated iPad control app for GUI-based operation of its V-02HD Multi-Format Video Mixer. With software v1.10 and above, the V-02HD Remote app turns an iPad into a touch interface for the V-02HD.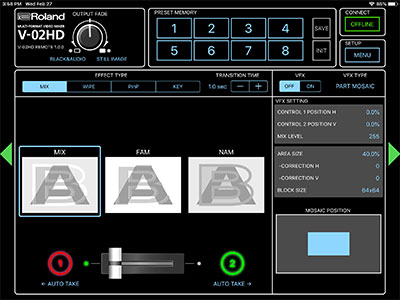 The V-02HD Remote iPad app supports switching function operation, virtual fader audio mixing and quick access to settings and effects parameters. Up to eight custom scenes can be created for fast set-up change using preset memories.
Roland has also released the v1.10 system update for the Pro V-02HD Multi-Format Video Mixer, improving resolution and expanding frame rate formats, as well as adding USB Midi support, increased audio delay and transformer switching.
For iPad remote control operation, the V-02HD's USB Type-B connector can be used to connect directly to iPad lightning ports via commercially available adaptor cables or via Apple's USB Camera adapter, and USB Type-C ports on iPad Pros can be connected with commercially available USB Type-B to Type-C adaptor cables.
The V-02HD combines a simple switcher, high-quality scaler, input expander, inline video effects/composition and audio solution in one portable unit. This ultra-compact 'micro-switcher', designed for solving challenges in live streaming and video production workflows, fits into most equipment cases and camera bags, making it easy to have on hand for every production, and it also attaches to standard video mounts and tripods. The V-02HD Multi-Format Video Mixer also facilitates multi-camera, single operator productions.
The V-02HD v1.10 System Update and the Utility software is available for download now.
More: http://proav.roland.com