Symetrix has unveiled the T-10 Glass 10.1-inch IP-based touchscreen.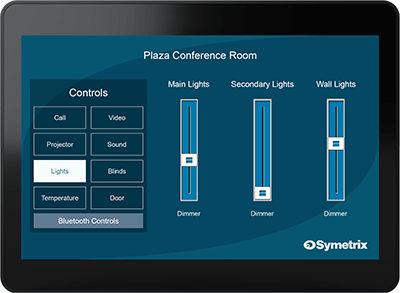 The company's largest, brightest and most powerful touchscreen to date, the display in the T-10 Glass provides high-resolution images at more than 224ppi, with 850 nits maximum brightness to maintain image clarity and colour in direct sunlight. The multi-touch capacitive touchscreen also makes it the first touchscreen from Symetrix offering simultaneous ten-finger control for instant, accurate response and control in any situation.
Like the smaller T-5 and T-5 Glass touchscreens, the T-10 Glass is an IP-based touchscreen with data and PoE-power delivered over a single Ethernet cable. Installation flexibility includes compatibility with standard two-gang wall boxes in both US and EU form factors. It includes a newly designed mounting bracket that allows it to be wall mounted in any of four landscape or portrait orientations. An optional tabletop accessory allows it to be used on a table or desktop for further convenience.
The T-10 Glass uses SymVue GUI authoring software, allowing control screens to be created, tested and simulated offline before being deployment. As part of Symetrix's free Composer software, SymVue provides a comprehensive toolset for manipulating control objects, text and images in a simple, convenient workflow. Multiple pages with custom controls, unique backgrounds, corporate logos and more can be created quickly and easily with SymVue and then exported to a single touchscreen or batch exported to multiple units simultaneously.
Clean and unobtrusive, the touchscreen is intended for use in houses of worship, conference rooms, auditoriums, hospitality or anywhere users need easy access to simultaneous multiple functions controlled by a Symetrix DSP.
The T-10 Glass will begin shipping Q2 2021.
More: www.symetrix.co