Lawo has released v4.4 of its theWall multiviewer control software, making general improvements and adding powerful new features providing an unparalleled multiviewer layout workflow experience.
Live Editing in Layout Builder allows operators to switch to live editing mode by activating the live edit switch and, from that moment, any changes will be immediately applied to the selected monitor. When not in live editing mode, changes can be applied to the selected monitor at any time with Publish button.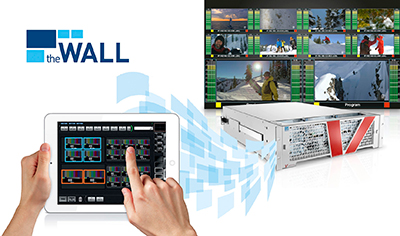 A new snap grid option for the Layout Builder helps with object alignment during layout creation. The snap grid is activated by clicking on the checkbox at the bottom of the screen. The grid size can be adjusted using the slider next to the checkbox.
Layout names are now displayed beneath each layout and can be edited by double clicking on the name. After typing in the desired name, a click anywhere else in the screen or hitting tab on the keyboard exits editing mode.
There are now folders for each wall in the files dialogue. Clicking on a folder opens it, as well as using the back button to return to the wall folder overview. The last restored file in each folder is highlighted in pink. Files can now be renamed or overwritten. Select a file (highlighted in blue), rename it and press the save button. The desired option is then chosen from the pop-up dialogue. To preview the contents of a file, double clicking on it causes a preview of the contents to appear.
There is added support for 3x UMDs and 3x OMDs and several control options.
In layout builder, it is now possible to manually change the Pip IDs. Selecting the Windows scope and clicking on Pip to edit, produces a dropdown menu called PIP ID that lets the default IDs set by theWall to be overwritten.
More: www.lawo.com