RTI has announced updates to its Pro Control line of control products, including two new Pro Control R Series 'Plus' packs to simplify dealer ordering and stocking, a new User Interface (UI) for the R Series, an update to the ProPanel mobile app, and a new website to help dealers access marketing assets and communicate the Pro Control benefits to customers.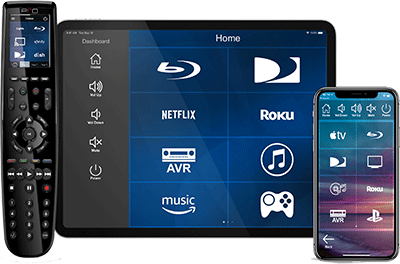 The new UI is easily installed with the updated wizard-based Pro Control Studio software, while the new Plus packs pair the two most frequently 'bought with' selections in the line, making it easier for dealers to order and inventory.
'Pro Control is a great opportunity for dealers to simplify every room with a TV or projector,' says RTI CEO, Joe Roberts. 'Our Pro Control R Series delivers an exceptional media room control experience with a set-up wizard that gets you in and out of the project quickly. It can be a full stand-alone system and is ideal in homes using another control system for secondary rooms on a budget. The Pro Control remote and processor kits are affordably priced and can be on every dealer's truck to be sold as add-ons for any TV or receiver install.'
The Pro24.r Plus pairs the sleek Pro Control Pro24.r handheld touchscreen remote with the Pro24.dock charging cradle to keep the remote ready, while the ProLink.r Plus adds four Pro.ire.1 infrared (IR) emitters to the ProLink.r processor, allowing dealers to extend IR control to countless electronic components.
The updated Pro Control Studio delivers the elegant new UI to the Pro24.r remote and the updated ProPanel app for Apple mobile devices. With the all-new Shelby theme, dealers will have a new icon set, beautiful backgrounds, and updated sources. The Shelby UI helps dealers create personalised experiences for clients.
'We know that personalisation is essential, so we've made that an easy benefit that dealers can bring to their customers,' Roberts says. 'And dealers appreciate that Pro Control is for professional installation only. We don't enable online or retail sales, so dealers won't get shopped.'
The R Series is the backbone of the Pro Control line, led by the precision-crafted Pro24.r with a customizable 2.4-inch LCD touchscreen display and fully programmable, backlit hard buttons to assure intuitive control. While it can stand on its own as a universal IR remote, it quickly pairs with the ProLink.r control processor to add fast and reliable 433 MHz RF communication, advanced power, and smart device app support. The ProLink.r processor includes an Ethernet port for network control of devices and the ProPanel iOS app, four IR routing ports with adjustable output strength, and two voltage-sensing inputs.
More: www.procontrol.com