Arista Corporation has introduced the RS-124-31 Series IP Flash Caster product line, enabling replacement of proprietary A/V matrix switches with off-the-shelf Ethernet switches that deliver higher performance, flexibility and scalability. It is a 1U-high rackmount AV-over-IP product line that can be configured with either dual SDVoE encoders/decoders with copper or fibre interface, and a variety of different video signal format inputs and outputs.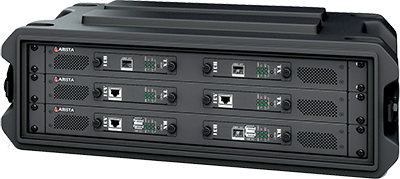 The IP Flash Caster RS-124-31 Series provides numerous configurations and functionalities to meet changing Pro AV requirements. The product line consists of four encoder models: the RS-124-A31-TX01, RS-124-A31-TX02, RS-124-B31-TX01, and RS-124-B31-TX02. This product group also includes two decoder models: the RS-124-A31-RX01 and RS-124-B31-RX01.
IP Flash Caster is an end-to-end system for A/V and KVM signal extension, IP-based switching, video wall and multi-view functionality. The product line provides support for HDMI 2.0a, HDR, high-fidelity video scaling, windowing and audio down-mixing, broadcast quality scaling, visually indistinguishable light-compression, multi-source video compositing, video splitting, colorspace conversion, frame-rate conversion, audio embedding/de-embedding, audio down-mixing and audio re-sampling.
Attributes common to all products in the RS-124-31 Series include broadcast quality scaling, adaptive clock re-synchronisation, colorspace conversion, frame-rate conversion, a variety of highly flexible audio capabilities, Multi-view, PIP, and PAP capabilities, video wall processing, USB, RS-232, IR Extension and Switching capability, and the ability to provide 1GbE Ethernet over 10GbE Network.
'The RS-124-31 series products deliver uncompressed 4K streaming with zero latency in a variety of configurations that enable A/V system integrators to achieve maximum flexibility with optimal performance for their projects,' says Paul Shu, President of Arista Corporation. 'AV-over-IP is the future of A/V signal distribution and the RS-124-31 Series is ready to take A/V projects to the next level.
Arista's RS-124-31 Series product line is slated to be available Q3, 2020. Prices start at US$2,000.
More: www.aristaproav.com