Becoming the most compact and cost-effective solution in the ViBox production family, Simplylive has released the ViBox Micro to fit the single-camera production tier with the same capabilities the full ViBox offers.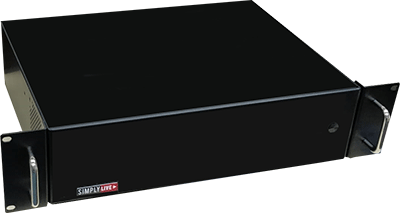 ViBox Micro provides an all-in-one solution for single camera production, fast downstream turnaround or an emergency backup option for OB trucks and studios. The Micro is a single-input/single0output server housed in a rugged and portable 2U-high chassis. The system includes multiple keyable graphics layers (internal and NDI source), internal audio mixing with embedded and XLR input or expanded with an external mixer, replays and highlights and clip playback to create a full production.
'We are excited to continue to grow and offer expanded solutions for our customers that always face the challenge to produce more and more with a smaller budget,' says Simplylive MD, Luc Doneux. 'The ViBox platform has proven to be a game changer in the industry as we offer a simplified yet innovative solution with a focus on high-quality, professional results. ViBox Micro takes us to another level where we can offer these same great features to enhance a wider range of productions from the smaller single camera event or the quick downstream turnaround scenario.'
The intuitive user interface that has become a landmark of the ViBox is further optimised for these lower scale applications that allow an operator to quickly set up and master the system to produce professional programming. This smaller form factor does not compromise on quality with recordings maintaining the high standard of VC-3 120/145 format and the option for live streaming of the final produced feed.
As a backup tool, ViBox Micro can ingest the clean switched router feed with audio and commentary to maintain the core requirements to keep a programme on air. The router preserves the cutting of camera angles into the ViBox Micro where the production can be maintained with keyed graphics, replays and highlights and playback of any pre-produced content. The ViBox Micro adds to the full range of the ViBox all-in-one which now ranges from a single camera, one user platform all the way to 12-camera, multi-user productions.
More: www.simplylive.tv