Gefen's latest TV DVI Dual Link-to-Mini-DisplayPort Converter offers plug-and-play connectivity between the DVI graphics ports on most popular computers and Apple's new 27-inch LED Cinema Displays.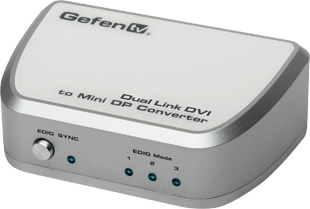 Housed in a desktop enclosure, the tiny converter supports resolutions up to 2560x1600, delivering vibrant video for professionals and consumers alike.
The GefenTV DVI DL to Mini-DisplayPort Converter is cross-platform in capability and can be used to expand the digital workspace or add a second high-resolution display to your computer system. It comes equipped with a USB port that powers the device and also supports field upgrades to ensure long-term use.
Though designed to support the connection of existing computers to Apple's LED Cinema Display equipped with Mini-DisplayPort, the converter can be combined with a passive Mini-DisplayPort to DisplayPort cable to connect to any other display using full-size DisplayPort.
More: www.gefen.com