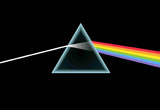 Wanted: Keyboard player/tape recorder technician for BBC Radiophonic Workshop tribute band. Knowledge of British 1960/70/80s TV and strong technical background essential. Must be able to patch unreliable synthesisers, splice tape and change valves in live performance setting. No time-wasters, breadheads or planks.
No takers? No surprise, really... Yesterday's World is no place for today's Tomorrow People. Or is it?
This isn't far removed from the task facing some tribute bands and their sound crews. And they seem to have got it covered… so to speak. So how is it done? How do you take cutting-edge studio technical achievements made with old (often now rare) equipment decades ago and faithfully recreate them in front of a critical live audience?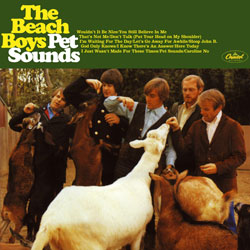 While many acts knock out a worthy selection of classic song covers, a handful go further, focusing on an album or even a career and attempting to recreate it in explicit detail. Let's pick a handful of seriously innovative and influential bands... say, the Beatles, Beach Boys and Pink Floyd. There are others, though not too many. Yes, perhaps. Kraftwerk, probably. Led Zeppelin? Bowie? Queen? Their tributes are certainly out there. Between them, they trace the development of popular music and the sharp edge of recording innovation over many years.
Beatles albums span the early 1960s through to the late 1970s, while Pink Floyd's albums kick in during the late 1960s and run to the end of the 1980s before losing their keenly innovative edge. The Beach Boys' Pet Sounds album – their eleventh –appeared a year ahead of Sgt Pepper, and is often referenced as one of the most influential ever. We are looking at around three decades of the most dramatic developments in the history of popular music.
When those artists first took their studio creations on the road, accurate reproduction was impossible – listen to any contemporary live recording of Dark Side of the Moon for proof. Instead, they were allowed to place any interpretation and instrumentation on their own recordings. Their tribute counterparts, however, are afforded no such luxury.
Live recordings of Pink Floyd from around the time of Dark Side's release in 1973) reveal some of the difficulties the band faced, and their solutions. While some of the material had been performed live ahead of the studio recordings, a lot of the innovation and refinements made at Abbey Road made accurate repetition impossible.
I Just Wasn't Made for These Times
Before tribute acts arrived to fill some of the holes left by bands that have moved on and artists who had passed away, live performance of a classic album was not expected to be the album 'made live'.
Yet the countless guitar and amp pairings, studio tape effects, grinding and wheezing organs, stretched Mellotron tapes, drifting analogue synth tunings, unrepeatable mikings and overdubs that took days of Abbey Road studio time to record are now among the many techniques that have been tamed by technology and ingenuity. In their new forms, they are a key part of tributes' trade tricks. That doesn't mean it's easy – so who takes on the challenges laid down by Sgt Pepper, Pet Sounds or Dark Side of the Moon?
F&W called on three established tribute acts – The Brighton Beach Boys (for Pet Sounds and Sgt Pepper), The Floyd Effect and The Australian Pink Floyd – to get in inside perspective.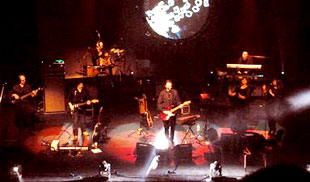 Floyd Effect keyboard player Gordon Reid was quick to emphasise the difference between a covers band and a tribute band. In Reid's book, a true tribute act not only takes in the sound and performance of the music but also includes everything from stage clothes and an accurate light show, to musicians taking on specific band members' roles. If you've seen the Bootleg Beatles, you'll know what he has in mind. Australian Pink Floyd Show guitarist and singer David Domminney Fowler, meanwhile, offers another priority…
'Some would suggest that making all the instruments and sounds as close to the album as possible is the best starting point, another may say that rehearsing all the parts to near perfection is the way forward,' he says. 'In my opinion neither of these is as important as one crucial thing – having the feel.'
With a broader catalogue of material to recreate, the Brighton Beach Boys' approach is different again: 'First and foremost, you'll need to assemble a core of musicians who are multi-instrumentalists. This is the only way to keep the costs down,' says Rory Cameron – who takes on Beach Boy/Beatle guitars, sitar, bass harmonica and chimes to prove the point.
His band have been performing Pet Sounds and Sgt Pepper for the past seven years ('also our bass player was the guitarist in a band who faithfully delivered Dark Side of the Moon').
Where all three bands are in broad agreement is on the role of the equipment itself. Backing tracks have no place in a tribute band, which means that the action takes place on the stage, with no 'assists' from the FOH desk. The Floyd Effect have recently swapped out an analogue Yamaha desk for an Allen & Heath iLive console, but the benefits are purely practical.
'The value of programmable digital mixing is in gigging rather than added accuracy of the performance,' Reid says. 'It doesn't make it possible to play Dark Side of the Moon more accurately, but it does make it easier. Scene memories make setting up quicker and more accurate, and a Cat5 link rather than a multicore is easier to rig and eliminates noise problems.'
With a Little Help from My Friends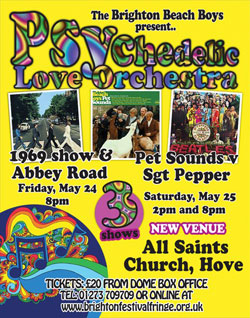 The real magic takes place on stage, where old and new technologies conspire in a good approximation of time travel. The spells cast by guitarists and keyboard players use very different ingredients, however.
Where authenticity guides guitarist and drummer, innovation is the key to the keyboard rig. Floyd Effect guitarist/vocalist Mark Horgan makes use of as much 'original' equipment as possible, and has made some the same modifications to his effects pedals as Dave Gilmour had at certain points in his recording career.
'Valve amps and amp modellers feature in our guitar rigs, along with lots of custom and rare pedals,' agrees the Aussie Floyd's Domminney Fowler. 'If we didn't try to recreate the sounds it wouldn't be right – but there is only so far you can go, and different songs have different drum kits. I know what sort of response we would get if we tried to tour with different kits for different songs, so it is clear there is always a compromise.'
Original equipment brings the limitations of the time,' says Reid, bringing the keyboard players' perspective. 'Yes, I'd like to have a Hammond, Farfisa and Rhodes on stage but I'd use them to for show rather than to get the performance closer to the recordings. If we were to go out with the same equipment the Floyd were using in 1973, we would be faced with the same limitations – we would be reproducing their live performances rather than the studio album that the audience has come to hear.'
For Brighton Beach Boy Cameron, one keyboard player can't cover all of the parts demanded by Pet Sounds and Sgt Pepper: 'Three keyboard players, if you're gonna do it properly,' he says. 'One piano, one Hammond organ and one miscellaneous synth/Moog soundalike – all of them must be also able to sing lead and harmony, plus be handy on the guitar.'
For Aussie Floyd keyboard player Jason Sawford, programming a rig of four keyboards, sound modules and samplers represents months of preparation ahead of major tours. Similarly, for Floyd Effect's Gordon Reid the real work is in the preparation – keyboard layers, careful use of sustain pedals, sound effects and rebuilding that synthesiser sequence from 'On the Run'…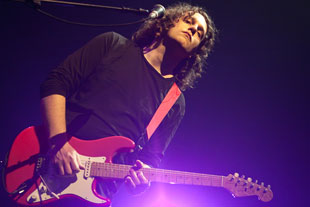 This, of course, is the technical advance that makes these tribute performances possible. The power of modern synths and samplers, coupled with their ability to store and recall sounds at the push of button or on receipt of a Midi command means that hours of painstaking programming can be instantly translated into convincing replicas of sounds created by extreme means in the recording studio – sometimes, for the first time. Take away the programmable synth, and you're pretty much back to dark ages.
'You can do it,' Reid says, 'and you can get very close. But then you get people who think you're using tapes. I try to make it obvious that what you're hearing is a live performance, played off the keyboards you can see. Even so, there was someone who thought that the seagull effects in 'Echoes' had been pre-recorded, but Mark [Horgan] was doing it the way Gilmour did, with a reverse-wired wah-wah live.
For the Floyd Effect, even the sound effects are recreated wherever possible and sampled where necessary. 'There are websites where you can buy some of the sound effects,' he adds.
'I could sit here and talk about how Steve [Mac] slides a metal guitar slide down his guitar during 'On The Run' to recreate the guitar-down-mic-stand trick, or how someone on the side of the stage fires off samples at the start of 'Money', that we spent ages trying to make sound like the album in a studio many years ago,' Domminney Fowler offers, 'but that would be giving the secrets away.
He remains insistent that the real secret is feel, however…
That's Not Me
'Every time I listen to Dark Side, I am drawn to how differently we do it in a lot of ways, but this does not worry me,' he says. 'You could listen to various versions performed live by Pink Floyd, from the Hollywood Bowl, to the Empire Pool, to Pulse at Earls Court, and one thing stays consistent – it sounds like Pink Floyd. They are all played differently, full of improvisation, different mixes, different technology but they all sound like Dark Side because they have the feel.'
Alongside the audacity, ambition and achievement of the bands here, the world of tributes involves a diversity of musical styles and scales, not to mention producing some of the funniest names ever imagined. It even boasts its own festivals – Tribfest 2013, Europe's largest tribute festival, is coming up August.
And as veteran FOH engineer Robbie McGrath observed in a pub conversation recently, 'Even the London Symphony Orchestra is a covers band these days...'