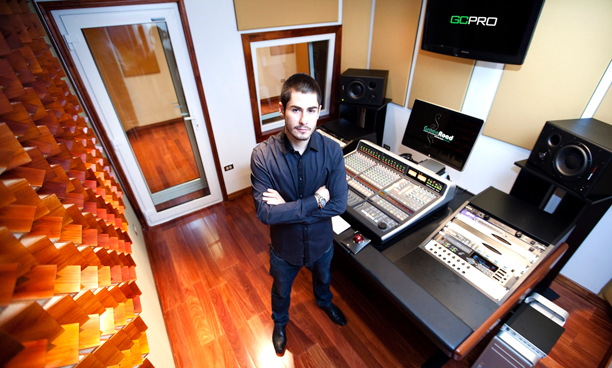 The opening of a brand new 'world-class' recording facility is uncommon news these days. Uncommon in the world's former 'recording centres', anyway, but not Costa Rica...
Because a world-class studio is what the Malvicino Design Group and Guitar Center Professional have given studio engineer – and now studio owner – Federico Hencker.
Located in Costa Rica, Green Road Studio wass designed by Malvicino Design Group's founder Horacio Malvicino, and is constructed from eco-friendly materials. Inside, it features a Solid State Logic Matrix console with an Avid Pro Tools HD3 system, together with a selection of new and vintage signal processing equipment and microphones.
Hencker's plan was to build a world-class recording environment capable of attracting clients not only from Central America but also South America and the United States. The modestly-sized facility is designed to handle audio postproduction, sound design and jingle recording for radio and television in addition to music production.
Key to the equipment and technical installation, Guitar Center Professional (the outside sales division of Guitar Center that focuses on professional users) supplied a complete package designed to meet Hencker's goals.
Studio plans
To lay the first of their plans, Hencker and Malvicino met with GC Pro Account Manager Michael Yorky at the company showroom in New York City to discuss equipment options. 'He [Malvicino] gave me lots of ideas about what kind of equipment to have in Green Road,' Hencker recalls. 'His insight was very useful – if I had any technical doubts or other issues, I would just call Michael and he would resolve them for me.'
While Hencker's 'go-to' vocal mic is an AKG C12, the studio's mic locker also includes a Microtech Gefell UMT 70S, which he says is fantastic for miking guitars, as well as several models from Shure, Sennheiser, AKG and others, which he uses to record drums.
Next in the signal chain, the microphone preamplifier complement includes a four-channel SSL Xlogic Alpha VHD Pre, an API 3124, and units from Millennia Media. A Manley Labs Slam! and an Avalon VT-737SP provide additional mic preamplification with dynamics processing, and a classic Teletronix LA-2A compressor and an Empirical Labs Distressor are also available.
'I am very happy with all my equipment,' Hencker says. 'With the SSL, for example, I have greater headroom so my mixes sound louder.' According to Hencker, Green Road is the only studio in Central America to feature an SSL console.
Green thinking
Having met Malvicino while attending a university lecture in Bogotá, Colombia, Hencker told the designer that he wanted the studio to be as eco-friendly as possible.
As a result, the facility uses the 'room within a room' model and is constructed with floors and wall resonators of bamboo (a sustainable wood) and is finished with environmentally friendly paints and fabrics. The acoustically isolating doors and insulation are made out of recycled plastics. 'Obviously, there are limitations if you want to build a studio that is 100 per cent green, but we made it as green as possible,' Malvicino says.
The studio comprises a control room, a live room – 'master suite', as Hencker describes to it – and an isolation booth partly constructed from stone that is intended for vocal overdubs and other instruments. 'I have been experimenting with all the rooms that I have,' says Hencker. 'The iso booth, for instance, has a very live sound that is great for guitar amplifiers.'
Hencker hopes that the studio will be able to call on Costa Rica's tourist attractions – rainforest, beaches and agreeable climate – to help give artists a unique recording environment. 'My idea is to let people know that they can work here Monday through Friday, and then on the weekend, go to the beach. People can come to Costa Rica and enjoy all the things that this beautiful country has to offer while working in a professional, state-of-the-art studio,' he says.
For his part, Malvicino, who managed the studio integration process, says that his plan was simple: 'We tried to make the studio as flexible as possible. Even though it is small, we followed the same guidelines that we use when building a world-class studio anywhere in the world. In Central America, there are very few studios and, to be honest, many of these are very low quality. With Green Road, we wanted to raise the bar a little bit.'
Malvicino Design Group a New York-based studio design and integration firm, is also a GC Pro Affiliate program member.
More: www.gcpro.com
More: www.solid-state-logic.com
More: www.avid.com