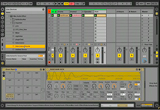 In today's world, where technology advances by the day, it is very difficult to choose between software tools and DAWs. Almost have good audio engines and the tools to create fantastic sounding mixes. So it is workflow and add-ons that make the difference.
While each one has its own set of unique features, Ableton Live, along with Cycling '74, looks to have set a benchmark in DAW innovation.
Rishabh Shah is a music producer based in India. He has produced music for TV promos, documentaries and e-learning compilations, and runs the RS Labs website where he is keen to share what he has learned. 'I believe knowledge has to be free and I hope this site helps you to learn,' he says. Fast-and-Wide canvaseed his stand on Ableton's Max for Live. Here is what he has posted:
Max for Live appeared in early 2009, putting the power of creating instruments, effects and extensions into the hands of any Live user. Lets take a look at what it does:
The program is object orientated, which means you don't necessarily have to know a programming language.

You can create your own devices by connecting objects like oscillators, filters and interface objects in a signal flow.

You can also set objects that regulate access to live and hardware devices. And here's the real deal, you can modify the inner workings of Live.

Thats right, with the official Live API you can modify the tracks, clips, notes, names and values, selection states and pretty much everything you hear or see in live.
That's pretty exciting.
Since the release of Max for Live, user-made devices are being shared across the Ableton community. The beauty of this is that it broadens the scope for innovation and thinking. It is wonderful to see a community building tools together for mutual benefit. Now how this brings about any major change in the core areas of recording, mixing and Djing (which has always been Ableton's forté) has yet to be seen, but it has at least opened the doors for it. With Live 8, Ableton also released some common features which were missing in the previous versions, like the step sequencer and folder tracks. Some old devices have been rebuilt to be used with Max, making it easier to learn and understand their inner workings. Two other additions have also been made – the Buffer Shuffler shuffles incoming audio to create interesting patterns, while the Loop Shifter is a loop playback device. Loop Shifter is different from any other loop playback device in that it uses Midi notes to change the playback rate, filter setting and loop points. It is pretty cool and has a sound of its own. All in all, Ableton has come a long way since the first version of Live in 2001.
But some find the interface to be confusing and not so intuitive – especially Pro Tools and Cubase users. This is because Live wasn't built for production, it was intended to be DJ software. The original idea was to replace the decks and mixers, which it did well – but as producers exploited its features, Ableton realised the potential of its own creation and started broadening its horizons.
I feel the confusion is a mind block created due to experience in the functioning of other DAWs, and I had to face the same. But for someone choosing Live as their first DAW, there will be no confusion at all. I switched to Live three years back, and have been working on it ever since. And for anyone starting off or switching to Live, I would recommend the in-built lessons that can be accessed through the help view in the Help menu and the info view box on the bottom right, which displays info about anything that your mouse is pointing at within Live. You will never have to consult a forum for petty questions, its all in here. If you're a Reason user, you can use Live as a host in rewire mode and process your favorite Reason units through Live devices. There are a lot of possibilities – and I hope there are more in the future.
For more of articles, tips and tutorials from Rishabh Shah, please visit RS Labs.
More: http://rslabs.in/