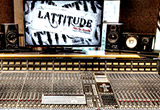 Created to provide 'a very private and discreet' studio for Michael Lattanzi's writing, engineering, production and mixing, Lattitude Studio South's word-of-mouth reputation has brought outside users to its location in Leiper's Fork, Tennessee.
Designed by Lattanzi himself, the facility is extremely well equipped, being centred on mixing consoles from Neve, SSL and API, and makes extensive use of Auralex Acoustics sound treatments.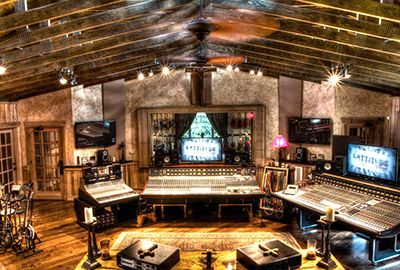 Leiper's Fork is home to an 'exurban artistic community', 30 minutes from downtown Nashville where Lattitude Studio South has attracted artists as diverse as Thompson Square, Hunter Hayes, Aerosmith's Brad Whitford, John Popper & Blues Traveler, and, most recently, Megadeth.


The studio's Neve 8078, SSL SL4000 E/G/G+ and API 1604 consoles ('I know, I'm crazy') are partnered with Studer A827 24-track, two-inch machine. (30/15ips), and Studer A80 RC MkII half-inch, two-track analogue (30/15/7.5ips) and Tascam DV-RA1000 192kHz/24-bit digital mixdown recorders. Monitoring is handled by a selection of loudspeakers including Eve Audio SC407, Yamaha NS-10Ms JBl LSR 4326-Ps and Dynaudio BM-5A MkIIs, as well as Miller & Kreisel MX-350 MK II 350W subs.
'What ties it all together is an array of acoustical treatment products from Auralex.' says Lattanzi, who moved here four years ago from Los Angeles. 'Auralex is completely integral to the way I work.'
He points to the Auralex ProPads underneath each monitor, which include Eve Audio SC407 and Yamaha NS-10M models, as well as Miller & Kreisel MX-350 MK II 350W subs. 'I swear by these,' he says. 'And under the subs I use the SubDude and Gramma v2 pads on the floor. I get total isolation between the speakers and the studio.'
His work as producer, engineer, mixer, co-writer has included Wyclef Jean, Lauryn Hill, Paul Abdul, Smash Mouth, LL Cool J, Jewel, Wilson Phillips, Steve Vai, Jessica Simpson and others in New York, Los Angeles and Nashville, music centres where he has lived during various phases of his career.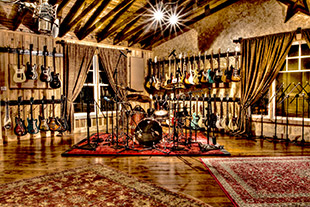 In the spacious tracking room, the drum kit rests on a 16-ftx16-ft riser made of Auralex HoverDecks, with a set of HoverMat pads on top of that. 'These keep the kit and the mics around the kit completely isolated from the floor,' he says. 'That's really helped the drum sound – they sound tight and there's no resonance through the floor.'
In the control room, Auralex 2-ftx4-ft ProPanels attached to the walls between the windows keep reflections in check, providing an accurate, reflection-free mixing environment.
In the studio, freestanding Auralex ProGOs act as sound-restricting gobos between amplifiers and around vocal mics. Lattanzi also uses them in the control room as baffles behind the studio's three full-sized consoles – a Neve 8078, an SSL SL4000 E/G/G+ and an API 1604 – to damp reflections from the windows between the control room and the studio. Finally, the control room has Auralex LENRD bass traps in every corner from floor to ceiling. 'I would not build a studio without them,' he says. 'They give me a very predictable bass response.'
Lattanzi reckons that the acoustic treatment gives him, as well as his studio and production clients, exactly what every music production professional seeks in a recording environment – acoustical and sonic predictability and consistency: 'I want to know that what I'm hearing is the voice, the instrument, the song, not coloration from reflections or resonances,' he says. 'I want to know that what I'm hearing is real, and that's what Auralex gives me.'