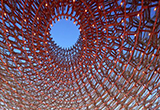 Sound designer Mike Bedford from Hoare Lea called on Out Board's TiMax SoundHub and Meyer Sound loudspeakers to provide immersive live audio playback and 3D spatialisation in the UK Pavilion at the 2015 Milan World Expo.
With the expo focused on sustainability, technology and food – themed Feeding the Planet, Energy for Life – the UK pavilion resembles a giant beehive in a wildflower meadow, designed by artist Wolfgang Buttress and engineer Tristan Simmonds.
Inspired by pollination and by scientific research developed to monitor the health of beehives by physicist and bee expert Dr Martin Bencsik, the installation highlights the role of pollination in our food supply, drawing attention to issues such as food security and biodiversity.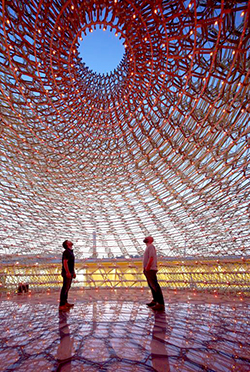 Visitors cross the meadow on sunken pathways to experience the bees' natural environment at head-height, ending up in the 14m-high abstract beehive structure, which hosts a multi-sensory immersive experience. TiMax propels a constantly changing composition of music and bee sounds around the various spaces as visitors 'follow the dance of a bee' through the varying landscapes and into the hive itself, learning about how pollination is vital to global food supply.
The sounds within the hive are a primary aspect of Buttress' overall concept. A composition entitled The Journey, which intertwines live bee broadcasts, multichannel bee recordings and a mix of multitrack music stems. It also features musicians who have recorded with artists including Spiritualized, Sigur Ros, Soulsavers, The Orb, Youth and Spring Heel Jack. The latter comprise drifting layers of both classical and electronic instrumentation, as well as human voices singing.
To capture the activity of a real beehive in Nottingham, movement-sensing accelerometers were installed in a real beehive in Nottingham as part of a scientific research project by Nottingham Trent University's Martin Bencsik. The derived real-time data is streamed from the UK live to the UK Pavilion in Milan, where it controls the volume and composition of the soundscape.
Thirty Meyer Sound MM4 loudspeakers are positioned around the meadow and within the four-storey-high hive structure, supported by six Meyer Sound sub bass cabinets. One 48-channel/track TiMax SoundHub audio show control matrix handles the multitrack playback and scheduling, processing, zone level management and multichannel distribution for all areas, as well as the synchronised audio spatialisation.
Programmer Andy Coates created custom control data algorithms to provide interactive control and custom Midi triggering software to TiMax Soundhub, which in turn responded with a live 3D audio surround mix and spatial panning events in the hive. Coates' software also controlled multi-element LED arrays distributed within the hive structure to sync both light and sound to the real-time bee activity in Nottingham.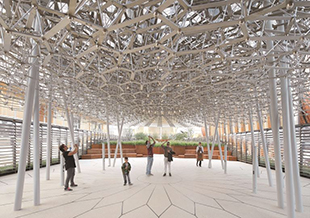 Hoare Lea is an independent consulting partnership with 11 offices throughout the UK and a growing international presence. Its work includes some of the highest-profile projects in the industry and with leading architects, designers and contractors.
'We decided to work with the TiMax processor as it offered a broad palette of functionality in a compact single unit, which could be quickly programmed and easily experimented with in situ,' Mike Bedford, Principal of Hoare Lea Intelligent Buildings explains of the expo installation. 'The TiMax provided sequenced and live multichannel playback; 3D spatialisation; flexible inputs and outputs; and various show control and interfacing to other systems. This control flexibility, combined with the Meyer Sound system design and [Out Board Director] Robin Whittaker's show control programming experience, meant that we were able to exceed the soundscape design aspirations.'
The sound is delivered by 18 Meyer Sound MM-4XP self-powered loudspeakers and six MM-10XP subwoofers. Two UP-4XP and 12 MM-4XP loudspeakers and two MM-10XP subwoofers create the audio zones at the front entrance and throughout the meadow. A small conference centre apart from the hive houses two UP-4XP loudspeakers and one MM-10XP subwoofer.
'The MM-10XPs provide a low-frequency sound bed which emanates from the Hive, a hum that is produced from recorded cello, tuned for physical impact,' Bedford explains. 'Vertically spaced rings of MM-4XPs reproduce a dynamic mix of bee sounds, all interwoven with original music components that together move around the space, immersing the listener.'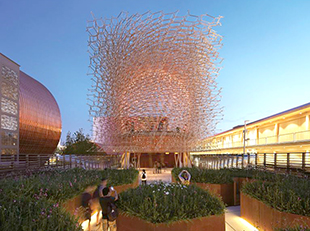 All of the speakers use IntelligentDC technology and a single, five-conductor cable delivers remote power and the balanced audio signal from a rackmount power supply and signal distribution unit.
'The quality of Meyer Sound products assures that I can place my full confidence in their performance," says Bedford. 'Certainly, the unobtrusive MM-4XP loudspeaker is a good architectural fit for the hive and the meadow, but even more important is the quality of the sound and the dynamics it can produce. It excels at quiet, intricate sounds, yet it can also handle loud, high impact sounds.'
Commenting on the successful realisation of his design for the UK Pavilion, Wolfgang Buttress said: 'I wanted a simple metaphor to express the importance of what pollinators do. Pollinators are responsible for 30 per cent of the food we eat and the bee is one of the most important of the pollinators. The quality of the listening experiences produced by the audio systems designed by Hoare Lea is crucial in revealing this metaphor, helping to create a space within the hive in which to think and feel. The speakers sound fantastic – the result has surpassed my expectations. The experience is truly immersive.'