Music lovers in the Phoenix-Scottsdale metro area are celebrating The Compound, a music venue and local-organic eatery at the northern edge of town. The organisers of the charitable McDowell Mountain Music Festival built the 250-capacity venue to provide a year-round residence for music and community – hosting regional and national acts. Not the sort of folks to go half-way, the owners insisted on a top-tier sound reinforcement system to deliver not just volume, but fidelity. Lyle Vilhauer of local Arizona A/V sales and installer Broadway Music and Jim Hall of Jim Hall Acoustics Research exceeded expectations with a system centred on Danley Sound Labs loudspeakers and subwoofers driven by an Ashly processor.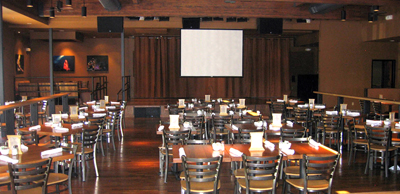 The Compound occupies a former Black Angus Steak House, and its sound reinforcement system had to be tailored to its low ceilings (very far from ideal) and squat stage (a challenging place to nestle subwoofers). Hall considered the situation and recommended Danley Sound Labs across the frequency range: 'First, Danley loudspeakers deliver solid, clean sound, a requirement for The Compound,' said Hall. 'The owners wanted to draw national acts, which would require a rider-compliant sound system that could go up against the best systems in bigger venues. Second, because Danley boxes are all horn-loaded, they are tremendously efficient and capable of high SPLs with only a small footprint. That allowed us to squeeze a ton of sound into a relatively small area.'
Neither Broadway Music, Inc. owner and chief technician Lyle Vilhauer nor The Compound owners had heard Danley products before. 'We did some research and read a lot of positive things,' recalls Vilhauer. 'Danley offered to ship out some demo units, but the owners waived that offer based on everything that they had read and, more importantly, on the advice of myself and Jim Hall. I've been working with Jim for over twelve years and have come to trust that when he says something is a good fit, it is a good fit.'
The installed system is elegant. The main stereo image is conveyed by two Danley SH-69 full-range cabinets, one flown above either side of the stage. The units are turned on their sides, both to increase clearance above the concertgoers' heads (yes, even inches made a difference) and to provide compelling stereo imaging across much of the floor. A single Danley SH-95 full-range cabinet outputs a summed mono signal above the center of the stage for fill. Below the stage's modest rise, Vilhauer hid two low-profile Danley TH-212 subwoofers.
Two Danley 6.5K and four Danley 4.5K amplifiers power the system, with input from an Ashly Audio ne4800m. 'I recommended the Ashly processor both for its exceptional fidelity and for the ease with which it networks,' says Hall. 'My work extends to both the studio and live aspects of sound reinforcement, and I have a studio space that I use to prove equipment. Because there are so many companies making digital processors these days, I thought it would be prudent to listen to them critically, functionality aside. The Ashly processors stood out as delivering very transparent audio, and I knew that that was an important requirement for The Compound. In addition, Ashly's processors and amps are network-ready, something that appealed to Lyle and The Compound.' A Yamaha M7 digital console provides an easily-recallable front end to accommodate multiple acts without goofs or brain-strain.
'We recommended just one Danley TH-212 subwoofer, but the club insisted on two,' laughs Vilhauer. 'So it was pretty comical when we fired the whole thing up. The place was still getting the finishing touches from the subcontractors, and there were a few electricians on site. When the bass fired up, all of their (remove unfinished) fixtures started playing along with the music, and they ran around frantically tightening everything down. The Compound certainly has enough bass! It could literally take the windows out.'
Everyone was pleased with the high-end sound as well, but there was a problem with one of the SH-69s. Vilhauer quickly identified its circuit board as the source of the trouble: 'Problems happen, of course,' he says. 'Danley's response was amazing. They were ready to overnight a whole new cabinet! I said, "no, I'm sure it's just the circuit board", and so they overnighted that.'
Since then, the system has been rock-solid day-in and night-out, providing impressive fidelity and output from a set of boxes that pack a surprising punch.
More: www.danleysoundlabs.com