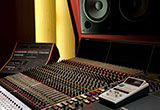 Recreating the vibe of classic recording studios of the 1970s posed both acoustic and monitoring challenges for Question de Son studio owners Jordan Kouby and Frederic Vectol.
'Many recording studios are trying to face the record industry crisis by simplifying their installations – gear, maintenance, less investment, essentially in-the-box mixing. At Question de Son, we resolutely try to go the other way.'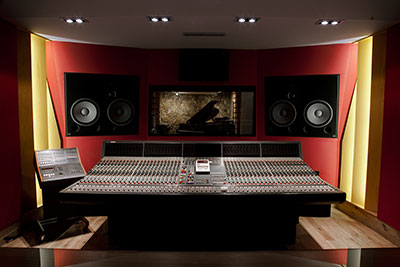 This mission has made Question de Son one of the most respected studios in France, and a 'favourite' Parisienne recording studio. 'We have built up vintage audio peripherals, our microphone collection goes from the 1940s to the present day, and some of our musical instruments date from our grandparents' generation,' continues sound engineer, producer and co-founder Vectol.
'We share the vision big studios had back in the 1970s – the Golden Era of the recording studios,' Kouby agrees. 'At this time, there was no compromise. These studios everybody keeps talking about with nostalgia even today all shared common foundations: good acoustics, a huge mixing console, top-quality peripherals, a dedicated team of in-house engineers and a lot of vibes. This is, for us, the most pertinent recipe to keep on making big records today.'
The answers to both the acoustic design and studio monitoring lay with French firm Amadeus, a specialist manufacturer of custom studio speakers, and high-end sound reinforcement systems for live and installed sound. In this instance, Amadeus took on the acoustic design and devised custom monitor systems for Studio A and Studio B. The facility's third room, Studio C, caters for in-the-box-projects with a Pro Tools system.
'The studio's acoustics were a priority for us, a matter we were not willing to compromise on,' says Kouby. 'That's why we called [Amadeus designer] Michel Deluc. We had worked for five years in our first studio, and we had especially understood how important acoustics and monitoring systems were in our control rooms.'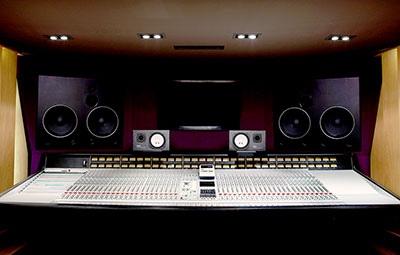 Led by Deluc, Amadeus designed the Studio A and B monitors with dual 15-inch woofers, a 3-inch mid range drivers and a 1.5-inch Beryllium tweeter, with 4kW of tri-amped power – 2kW assigned to the dual LF drivers. In Studio A, these are accompanied by a vintage Neve VR48 mixing desk with Flying Faders and Total Recall, while Studio B features an SSL 4048 G+ console with Ultimation and Total Recall.
'We had discovered Michel's work several years before in producers' Tefa & Masta studio – a place where we completed technical tasks such as wiring and mixing desk installation,' says Kouby. 'Michel Deluc had designed the acoustics and a custom monitor pair there, and the final results were very impressive. As soon as we made the first sketches for our new studios, we contacted Michel, with these very positive memories in mind. We then discussed a lot about the studio design and the monitors. When I first showed him some outlines, we already had strong ideas about the kind of sound we wanted. Our common inspiration came from studios such as Electric Lady in New York.'
'One of our ideas was to build the speakers with ATC 150 dome midrange speakers, a double TAD 1601b 15-inch woofer and an Esotar 330 tweeter,' Kouby continues. 'We also considered using TAD compression drivers with horns, but we quickly abandoned this idea. Michel came back to us with his ultimate design; its style and technical characteristics immediately astonished us. We then had to wait a little more than a year to complete the studio building and to finally get our two pairs of monitors. We had to launch a first experimentation phase to choose the most appropriated tweeter and to break in the loudspeakers. But the results already seemed most interesting: stereo image, precision at all the frequencies, and a very comfortable listening experience.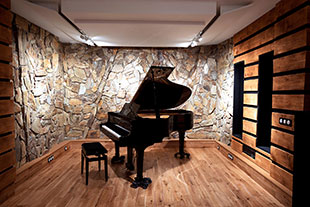 'About the tweeter, our common final choice was a 1-inch beryllium Scan Speak D3004/664000,' he adds. 'This speaker is at the same time very precise and very pleasant to listen to. No listening fatigue, even after several days of work with the monitors. After several months of break-in, a final tuning was necessary. Since then, we are absolutely delighted with the listening quality on our control rooms, as all Question de Son's customers are. We get nothing but praises and compliments about the acoustics, the monitoring systems and the comfort of working in our studios.'
The studio has already hosted MeShell Ndegeocello, Anthony Joseph, Micky Green, Elliott Murphy, Ayo, Keziah Jones, Martin Solveig and BabyShambles, among other recording artists.
'When I'm recording, I look for a good room with a variable acoustic environment, good vintage and contemporary analogue equipment in top condition,' says engineer Steven Forward (Paul McCartney, Ray Charles, Depeche Mode, Serge Gainsbourg), who lists 'state-of-the-art digital recording technology, a choice of classic microphones and reliable monitoring in a clean tight control room' as essentials. 'I find all these qualities at Question de Son, and that's why it's become my favourite Paris recording studio'.
Describing his own experience at Question de Son, engineer Etienne Colin (The Artist soundtrack) says: 'Studio B's Amadeus monitors are really very interesting. They offer not only a high quality for passing-by label executives and customers, but also a high level of comfort for the mixer, all day long, without fatigue. Question de Son won their bet: close field speakers and big monitors are really coherent. And there's never a bad surprise when we listen to our mixes elsewhere. A special mention goes to the ATC dome – always precise, never aggressive.'