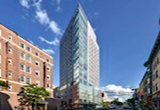 Claiming to be 'one of the largest, most progressive and versatile professional audio teaching/production/performance complexes in the US', Berklee College of Music has opened its 160 Massachusetts Avenue centre in Boston.
More than three years and US$100m in the making, the facility occupies four floors in a striking, 16-storey building housing ten studios from the Walters-Storyk Design Group.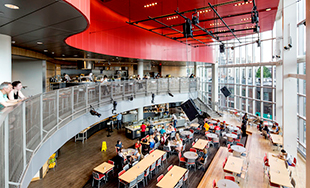 A commanding floor-to-ceiling glass wall overlooking Massachusetts Ave marks the Berklee Café – originally conceived as a student dining hall, this is now a 'statement' live performance/recording venue for students. Its 38ft-high ceiling and curved, second-floor balcony contribute to a natural acoustic that is accompanied by 'total connectivity' to control rooms throughout the complex. Nightly music performances began as early as January 2014, quickly establishing the room as a talent platform and outstanding live recording space.
'Our partners Dirk Noy and Gabriel Hauser ran extensive auditory simulation and modelling tests to establish optimal acoustics for the performance café, the studios and the critical listening environments,' says WSDG Co-Principal/ Interior Designer, Beth Walters. '160 Mass incorporates architectural elements and acoustic treatments that epitomise our 40-plus years of studio design experience. These rooms are world class.'
Two storeys below the Café, on Level A, Studio 1 features a 1,300-sq-ft live room designed to accommodate an orchestra of up to 50 musicians. As the largest studio in the complex, this suite includes a 600-sq-ft control room for classes of up to 16 students and two oversized Iso rooms. Extremely useful for multi artist recording projects, they compliment the WSDG-designed studios at the Berklee Valencia campus.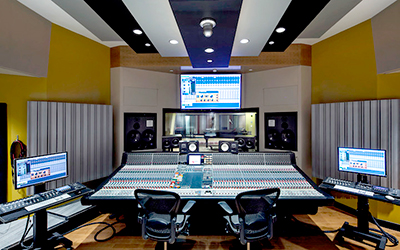 'Studio 1 engaged a number of innovative design elements,' reports WSDG Partner/Project Manager, Romina Larregina. 'Because it is clearly a star attraction, Berklee College of Music President, Roger Brown and the executive team envision an ongoing series of student tours through the complex. Faculty members were concerned that the panoramic corridor window into the live room might prove a distraction to student musicians. To ameliorate this anticipated problem, WSDG recommended fitting the window with clear glass quadratic residue diffusers. These custom-built treatments were precisely calibrated to diffuse the studio's frequency range. Joined together as a single "sill-to-top" installation they enhance the live rooms' acoustics, provide visitors with an expansive view, and maintain the privacy required by working student musicians.
'Studio 2 was designed for smaller ensemble recording projects, and features a 120-sq-ft Iso booth, and 360-sq-ft control room,' Larregina continues. 'Each studio represents the latest word in room-within-room construction, acoustically de-coupled for zero tolerance in terms of sound leakage.'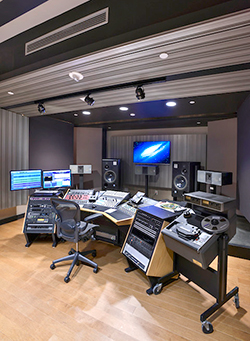 Level A also features one of two-tiered Central Machine Rooms (CMR), providing the facility's 'enhanced connectivity'. 'Due to the extensive amount of technology required by 160 Mass, we split the distribution within two integrated rooms,' Larregina explains. 'The Level A CMR is positioned directly above the Level B CMR. This vertical configuration was extremely logical. Our long-time Systems Design & Integration Specialist Judy Elliott-Brown accomplished literal miracles in one of the most challenging wiring projects we have ever encountered.'
A 25-year WSDG veteran, Elliott-Brown has been involved with the project since 2011, and has been responsible for routing, running and connecting upwards of 100,000 feet of analogue audio, video, Cat6 and speaker cable, and more than 30,000 connections via 5,500 individual connectors. She considers this to be one of the most complex assignments of her career. Collaborating with Berklee College of Music Chief Engineer Burt Price and Jerry Smith, Senior Director of Technology for the Writing & Technology Division, and enlisting the creative design assets of the WSDG global team, Elliott-Brown resolved innumerable systems infrastructure issues.
'Over the three years that this project evolved from initial drawings to fine tuning, our primary mandate was to remain open to change,' she says. 'Technology shifts, room repurposing and functionality remained fluid well into the construction period. The most significant refocus was the decision to refashion the cafeteria from a traditional dining hall into a performance venue. In retrospect this seems like an obvious call, but it was a brilliant expansion of the role this three-storey-high, glass-walled hall will now play. It presented some interesting acoustic and wiring challenges, but the benefits to Berklee students and guests will be enormous. Fortunately, the decision was reached early enough in the construction stage for us to accomplish the changes in a timely and efficient manner.'
Elliott-Brown supervised the system installation crew led by Redco Audio, estimating that over the past three years she has devoted upwards of 2,240 hours to the project.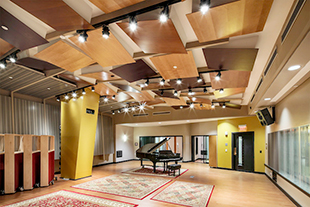 Level B is comprised of five independent suites of varying size and purpose. Created for small ensemble recording using an SSL Duality mixing console/DAW controller, Studio 3, features a 320-sq-ft control room, a 140-sq-ft Iso booth, and a 600-sq-ft live room. Larregina refers to the Mastering/ Critical Listening Lab, as a 'self-contained sweet spot': 'The precise acoustic tuning of this studio will provide classes of up to twelve students with an impeccable listening experience, one which will be difficult to match in the real world,' she says.
Having purchased its first SSL Duality in 2010 for teaching advanced mix techniques, the expanded footprint of Berklee's production facilities prompted the acquisition of the second. Both consoles are now installed in tracking rooms – Studio B and The Bridge – and service advanced recording and mix classes and projects.
'Duality nicely bridges the gap between teaching on our traditional in-line analogue consoles, and our DAW controllers," says Dan Thompson, Assistant Chair of Music Production & Engineering. "The console is an extremely interesting teaching tool because it can act as an advanced analogue console alongside comprehensive control layer for DAW-based projects. In our advanced tracking and mixdown curricula, Duality perfectly illustrates this hybrid workflow and professional paradigm.'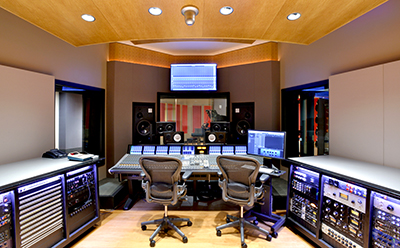 A further 'signature room' is Level B's 700-sq-ft Dolby Atmos-ready dubbing stage, which features twin 150-sq-ft Iso booths and a 120-sq-ft overdub booth. The 1,400-sq-ft production control suite features four control rooms, three equipped with Iso booths and all adjacent to a communal lounge.
The facility's fourth floor is dedicated to practice and rehearsal. Three conjoined 250-sq-ft Ensemble Practice Rooms were constructed with pro studio isolation and acoustic treatments to enable musicians to practice at peak volume without concern for sound leakage into neighbouring rooms. Additionally, 20 individual practice rooms of varying size were designed to accommodate a diverse range of rehearsal configurations. The fourth floor also houses a student fitness room.
Beth Walters collaborated with WSDG interior design supervisor Silvia Campos Molho and interior designer Charlotte Ross and Berklee College of Music Assistant VP Carl Beatty on the overall interior design: 'VP Beatty suggested introducing subtle inflections of colour to warm and refine the atmosphere,' Walters says. 'To facilitate this goal, we developed a custom palette to compliment the college's red-and-black motif.'
'As a former professional engineer I've logged countless hours in recording studios,' Carl Beatty observes. 'My interior design experience began with WSDG on Berklee's Valencia, campus which has a "destination studio" rather than a classroom vibe.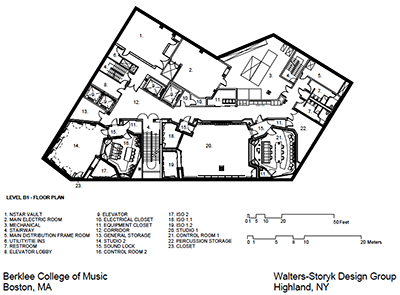 'Because 160 Mass is a dedicated teaching facility, we envisioned an unequivocal pro studio setting. Beth and Sylvia prepared an expansive canvas of gold, ochre, lavenders, blues and other harmonising colours, to enhance each room's character. This complex bristles with technology, but its variable acoustic treatments, silver diffusers, dramatic ceiling clouds and other auditory elements are complimented by carefully considered aesthetics orchestrated by WSDG.'
Walters describes the three-year design/construction mission as an exceptional opportunity for WSDG to collaborate: 'Our challenge was compounded by the fact that we were simultaneously engaged in integrating our design for Berklee's five studio Valencia Campus, in Spain,' she says. 'The major differences between these two projects were scale and location. Berklee Valencia is set within the ultra-modern, Palau de les Arts Reina Sofia arts/performance complex. Boston's four-floor, 52,65-sq-ft audio education complex is the hub of a 16-storey, ground-up building. Virtually every member of our international team made a meaningful contribution to both of these formidable endeavours.'
'Projects on this scale are extremely rare,' John Storyk concludes. 'Roger Brown, Carl Beatty, Jay Kennedy, Vice President for Academic Affairs/Vice Provost and their entire executive cadre are among the most astute and forward thinking educators we have ever worked with. Their insights and recommendations were invaluable, particularly in proposing the café as a performance/live recording space. A brilliant decision, albeit one, which presented considerable acoustic design challenges at that stage of the project. However, their prescience reflects a unique grasp of student needs. And The Café was immediately recognised as the jewel in the crown. Berklee College of Music has introduced a new standard of professionalism and commitment to a rapidly evolving career path. WSDG was privileged to contribute to this significant addition to America's educational infrastructure.'
'WSDG has not only designed many of the world's best studios, they closely monitor the smallest construction details to insure that they are built to impeccable standards,' says Brown. 'We are delighted with the outcome, both in the studios they designed for our campus in Valencia, Spain and with this new suite of studios in our 160 Massachusetts Avenue building. Berklee students deserve the best, and now they have the best.'