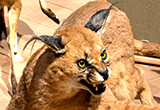 Re-opening on its 20th anniversary, the Great Gallery of Evolution at the French National Museum of Natural History in Paris seeks to offer a 'hi-fi' audio experience throughout.
Going beyond the familiar sound system design process, this features site-specific loudspeakers that have been devised to provide performance and specifications that were not to be found in any manufacturers' catalogue.
'For an architect, the starting point is to decrypt the space and to think of the way to put one's work in a cultural, social and environmental context,' says Amadeus designer, Bernard Byk. 'That's the way we design our sound systems – we think about their integration in different places, and we supervise this integration. Each space has its own acoustical characteristics and above all its own architectural properties. Our work is to take these phenomena into account to increase the transparency of our sound systems.'
The museum's sound installation features an assortment of Amadeus loudspeakers and sub-woofers with Merging Technologies, Solid State Logic and Flux to control more than 100 speakers that were used in the various systems.
Together with Amadeus R&D Director Michel Deluc, Byk, created completely new speaker and subwoofer configurations for the massive system at the request of French designer, scenographer and composer Marc Piera. These have subsequently been included in the Amadeus PMX Series as super-compact 4-inch coaxial model, the PMX 4. Byk and Deluc also designed two sub-woofers for the install, the ML 8, and ML 12 Slim. The ML 8 is the smallest of the Amadeus ML Series of subwoofers; likewise the PMX 4 is the smallest of its series.
'I tested many small and light speakers – weight was a major issue – sold by well-known brands,' says Piera, co-founder and CEO of Comportements Sonores. 'I then turned towards PA systems. Leaving aside the brands whose systems didn't meet relevant specifications – dispersion quality, frequency range, and impulse response around the speaker – I got in touch with Amadeus. I didn't know they made small speakers, but I had used Amadeus products as I gave training seminars about controlled directivity, and during many shows and concerts.'
Among other duties, these are used to deliver soundtracks created specifically for the museum by sound recordist, sound Editor and sound mixer Frédéric Rocard.
'These are based on natural ambient sounds, from thunderstorms to delicate ambiences, a tribute to the rich timbres and dynamic levels of all animal species shown in the gallery,' Piera continues. 'Dynamic margins between background noise level and reasonable listening levels is reduced. It was then mandatory to find how to best place the Amadeus loudspeakers to get an excellent covering in the public spaces, and to design a system with a high-quality stereo image faithful to the complex ambiences. Another key point to accomplish was that no spectrum changes would occur off-axis. In the end, 186 Amadeus sound sources were installed, including 28 subwoofers.'
Among them, the previously released PMX 5 (5-inch) model was used with finishes to match the ceilings of the museum. Additionally, a modified ML 12 subwoofer (ML 12 Slim) was re-designed as a slimmer version to be built into the museum's high-walled cabinets, where they were not deep enough to hold the standard model.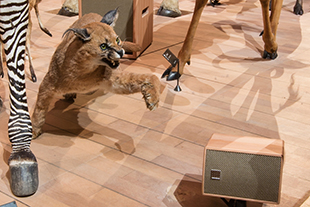 Several of the new ML sub-woofers are installed in prominent locations that the public can see, and feature a natural beech exterior, matching the paired PMX 4 speakers in beech wood. All the updated or newly created products, including the PMX 4 and ML 8 subwoofer, are now available for other installs as standard parts of the PMX and ML series Amadeus product lines.
The Grande Galerie de l'Évolution is divided into several public spaces: the first is 3,500-sq-m by 2.5m high, the second, 2,300-sq-m by 15m high, plus three passageways. Since the Gallery is a museum, there are many children's groups and families attending, so the background noise levels are often between 55dB and 70dB (A). The Gallery is also a conservation area-implying mandatory demands of integration of sound quality and other limitations.
'The Amadeus PMX 5, then the smallest speaker of the range, was too heavy to use everywhere,' Piera explains. 'Amadeus quickly suggested that they design a variant offering the same sonic qualities but with reduced weight. They created a prototype of the PMX 4, and after we tested and measured this in situ, it appeared it could be used to send sound in the passageways, with very high quality. Using a very tight distribution I got an incredible sound image and the finest details along these long corridors exactly as I had wanted.'
However, in some parts of the installation the existing PMX 5 model turned out to be best, 'The PMX 5's attenuation is even and its coaxial speaker shows an excellent impulse response which helps to reduce ceiling reflections,' Piera continues. 'Eighteen Amadeus ML 12 subwoofers, distributed around the passageways, handle bass extension.' Referring to the tight space for some subwoofer positioning he says, 'Amadeus was able to meet the integration needs with a thinner version of subwoofer, the ML 12 Slim. We set the crossover frequency between the PMX 5 speakers and ML12 Slim subwoofers at 90Hz, allowing us to reduce localisation problems.'
On the amplification side, Amadeus developed two prototypes, the MultiAmp and A Series, to match the needs of the museum install.
Taking control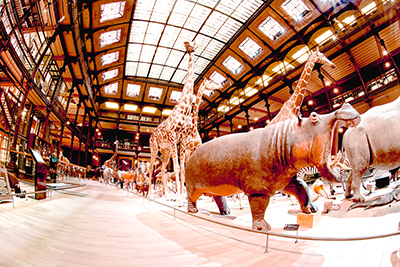 'Merging was excited by the opportunity to work on a project of unprecedented scope for our Ovation,' says Merging Technologies Head of Software Engineering, Dominique Brulhart. We were equally pleased to note that the set-up –186 loudspeakers across seven zones – connected to two Merging Horus converters, all handled by a single Ovation, worked without a hitch. We nevertheless learned a great deal from this installation and identified several ways in which our user interface could be enhanced.'
'Management of the speakers uses specially-designed Merging Technologies software plug-ins, which control dynamic EQ, expander/gate functions, as well as compressor and limiter capabilities for each of the speakers individually,' adds Brulhart. 'The Merging Technologies Loudspeaker Management System that was created is fully Amadeus compatible, and can be used in future installs.'
Reviewing the project, Piera concludes: 'This kind of integration job, filled with aesthetic taboos and security issues, requires not only very high-quality products, but also deeply involved partners. Amadeus was exemplary in that matter, and this contributed to the final success of the project.
'The company's commitment even led the company to create specific RAL colours and wood finishes, putting the final distinguishing touches on this successful integration. And Amadeus even developed the amplifier system to deal with the independent speaker lines. Solid State Logic interfaced the system, and Merging Technologies dealt with the programming side using their Ovation system, even adapting their product for us, on the practical and ergonomic side. The system filtering issues were handled by Flux, Merging Technologies' long-time partner.
'In the end, I was able to stay as close as I wanted to the sound that I had imagined, specified and championed for this type of electro-acoustical mission,' he adds. 'To get as much definition as possible in the sound image and the timbre. Traditional systems, like Amadeus PMX speakers, remain the safest solution to work with difficult acoustics.'
'The National Museum of Natural History install represents a high point in speaker and amplifier design by Amadeus.' says Amadeus Marketing Manager, Gaetan Byk. 'It is a perfect example of the outcome from the Amadeus brand philosophy that is built on the long-standing, close and productive relationships we have maintained with designers and scenographers, both in France and around the world, for more than 35 years.'
More: www.amadeusaudio.fr
More: www.merging.com
More: www.solidstatelogic.com