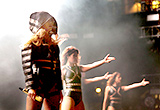 Arriving off the back of a 20-date North American leg, Beyoncé and Jay-Z are now on the road in Europe with their ambitious Bonnie and Clyde-themed stadium tour, On The Run.
Musically thrilling and immaculately choreographed, the show calls on Sennheiser's Digital 9000 wireless microphone system to survive in the harsh RF environment created by the extemsive use of video and lighting systems.
The tour brings together band members from the Beyoncé and Jay Z touring camps, and features two stages with a massive video wall and an elaborate lighting design – making it challenging from an RF perspective. The Sennheiser system was purchased specifically for the tour by Eighth Day Sound Systems on the recommendation of front-of-house engineer Stephen Curtin and monitor engineer James Berry – both veterans of the tour.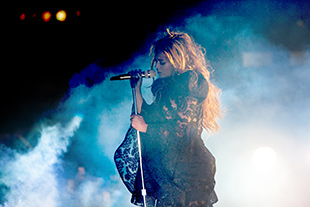 Beyoncé's vocal and Jay-Z's rapping also present challenges to the audio team, and the Digital 9000 system was chosen after extensive testing and evaluation by Curtin, Berry and Eighth Day Sound.
'We are on tour with two of the biggest artists in the world,' Berry observes. 'They bring it all, night after night, and are constantly setting the creative bar for other artists. This can be challenging for us as engineers, so we have to remain at the edge of technology to stay ahead. The Sennheiser Digital 9000 system was a perfect solution from both a sonic and reliability standpoint.'
'For us, it had all come down to audio quality,' he adds. 'We did A/B tests between the Digital 9000 and our previous system before it ever saw an artist. When the artists came in for rehearsal, I handed them a Digital 9000 and we never looked back.'
'My first impressions of the Digital 9000 was during the rehearsals with Beyoncé –as soon as she sang, we instantly knew that it was going to work,' Curtin offers. 'Normally, I have to do a lot of balancing and EQing for the environment I am working in, but with the Digital 9000, the pure, natural tone came ringing through – nothing was getting lost in the transmission and I hardly had to make any corrections.'
At monitors, Berry had a similar experience with Jay-Z's vocals: 'The lack of compression made everything sound so smooth,' he says. 'I will never use another microphone on a rapper or on another hip-hop gig.'
All of this was convincing enough for Eighth Day Sound CTO Jason Kirschnick: 'If we are making it easier for the engineers to do their jobs and increasing the quality of the audio, then it is a good decision for everyone,' he says. 'The Digital 9000 sounds remarkable and is very ergonomic. When you put it in context with all the other products Sennheiser makes, such as the SKM 5200 handheld microphones and the EM 3732-II wireless systems, there is a great track record there. We have a great relationship with Sennheiser, so the decision was that much easier.'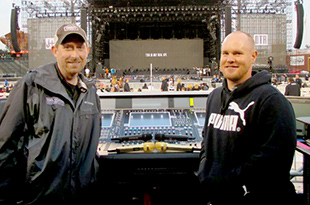 Jimmy Corbin, monitor engineer for the band, believes it a rare event that a single piece of gear can have such an impact on the overall quality of a massive touring system: 'We noticed there was a significant difference in what you could do with it,' he reports. 'With many other microphones, you have to be defensive from an EQ perspective, counteracting the problems that routinely arise. But with the Digital 9000 and the MD 9235 dynamic cardioid capsule which has outstanding rejection qualities, you could actually be more creative and offensive in how you EQ. When I first heard this microphone, I knew it was going to make my day easier.'
For Curtin, the 'secret sauce' of the Digital 9000's sound is how the RF is transmitted – since the handheld and bodypack transmits digitally, it does not employ any companding circuitry or pre/de-emphasis found on typical analogue systems. 'Without the companding, I can immediately realize a fuller and more dynamic sound,' he says. 'For a vocalist like Beyoncé, this is a big help because it means I don't have to search for frequencies that were lost during transmission – they are all there.'
As RF technician for On The Run, Clinton Reynolds faces a different set of issues: 'For me, the RF landscape changes with every city and every venue. We are constantly working around digital television and other challenges and the RF challenges are getting harder, not easier.'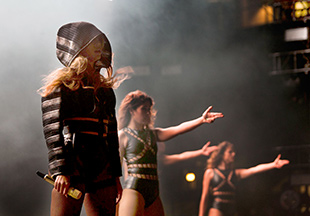 He says the scan feature on the Digital 9000 has helped simplify the frequency coordination process. 'It actually takes what my antennas are seeing at any given moment and shows me the lowest noise floor for that particular bandwidth. I can always use other scanners for finding frequencies, but none of them show me what the antennas are seeing like the Digital 9000. This is very useful often critical because an antenna might be in close proximity to a lighting rig and be prone to more noise. A traditional scanner won't show you this.'
In addition to the Digital 9000 system, a full complement of Sennheiser wireless is being used for monitoring, backline and instrumentation duties, including six channels of EM 3732 receivers (horns, guest microphones), six channels of EM 2050 receivers (guitars/bass/keytars) and 12 channels of 2000 series wireless monitoring, for a total of 24 additional channels of Sennheiser wireless.
Broadcasting the show
Two of the tour's dates at the Stade de France in Paris were also recorded for broadcast as an HBO special: On the Run Tour: Beyoncé and Jay-Z. Called in from its Claifornai base, remote facilities company Music Mix Mobile (M3) handled the recording, which aired just eight days after the second concert.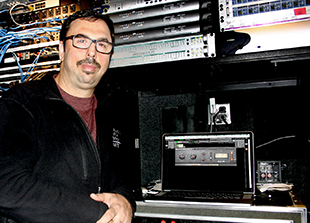 With Engineer-in-Charge Joel Singer at the helm, the M3 team's work centred on a Studer Vista 8 digital mixing console with a MultiRack SoundGrid plug-in host for the broadcast remix. The plug-in host was installed on an Apple Mac Mini in a Sonnet Rack Mac Mini chassis with a SoundGrid-qualified 8-port network switch to connect all components; a DiGiGrid MGO optical Madi-to-SoundGrid interface; and Waves SoundGrid Server One.
'Interfacing plug-ins with Waves MultiRack to the Studer Vista 8 was straightforward,' Singer reports. 'The DiGiGrid MGO interface was attached to a free optical Madi port on the Vista and used as 32 channels of inserts via one port, since we were running at 96kHz. We used a variety of plug-ins that allowed our engineer John Harris to be comfortable mixing – Waves Renaissance DeEsser, Renaissance Voxand CLA-76 compressor/limiter for all vocal inserts; Waves CLA-76, Renaissance Compressor and V-Comp for various instrument inserts; Waves H-Delay Hybrid Delay for vocal delays; and Waves V-EQ4 and SSL G-Equaliser for various other channels.
'We set up a static page with a snapshot, which was a general recall – a complete reset,' he continues. 'Then, as the rehearsals for the show began, we changed and manipulated the settings of plug-ins. This didn't change much on most channels, as the levels of instruments across these 128 channels remained very constant. The ability to fire off the MultiRack snapshots via Midi from the Vista is a great feature. Running plug-ins with MultiRack on this Vista or any Madi-enabled console is a true-life saver. Our engineers rely on Waves plug-ins as their go-to audio tools – it's like the days when each engineer used to carry around a rack of favourite hardware toys. Now we can do the same, in a 4U rack that fits into a Pelican case and can be deployed on any given mixing console. I look forward to the continued development of this platform and the addition of plug-ins and features specifically designed for the production and broadcast markets.