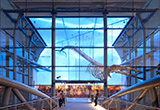 Aiming to inspire 'wonder, discovery and responsibility for our natural and cultural worlds' in its visitors, the Natural History Museum of Los Angeles County (NHM) houses one of the most extensive collections of natural and culturally historic artefacts on Earth.
Its new Otis Booth Pavilion is set to call on present-day A/V technology to enable it to do just that…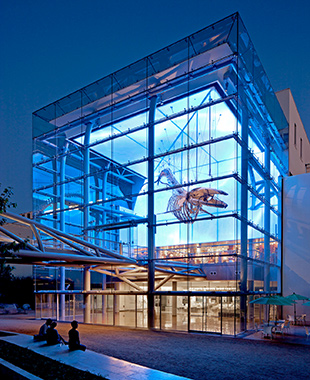 Since opening in 1913, the NHM's mandate has been to preserve, protect and research the 35 million artefacts in its collection, and to curate immersive exhibitions. Made possible by a US$13m gift from the Otis Booth Foundation and designed by CO Architects, the pavilion is part of a US$135m renovation that transformed the NHM into a learning hub. In addition, it offers a venue for a variety of events and presentations.
Designed by Waveguide Consulting and installed by Sound Image (SI), the audio system includes a pair of Tannoy QFlex 32 digitally steerable, multichannel arrays, two VLS 30 passive column arrays and five CMS 601DC Dual Concentric in-ceiling loudspeakers for reinforcement of speech and audio.
'We were asked to provide an A/V system that would support a gigantic LED video wall and the entryway to the Museum,' says Michael Di Santo, Waveguide's LA-based senior project consultant. 'It's an everyday entry to the museum, but they also use it for special events, so we designed an audio system for presentations on the upper or lower level.'
Constructed almost entirely of 9x11-ft glass panes, the pavilion is an acoustically challenging space: 'Essentially it's a six-storey glass cube with a concrete floor and there are two different presets,' says Jerry Fleury, SI's Project Manager on the install. 'If someone is presenting from upstairs or downstairs, they can switch from one preset to the other between or during events.'
Waveguide chose Tannoy's QFlex and VLS arrays in order to maximise the museum's ability to control the sound easily and effectively. 'We evaluated several speaker options for this challenging acoustical environment and determined the QFlex line arrays would be a good fit,' Di Santo confirms. 'We looked at the software and the ease of setup and I contacted our engineers and said, Could we look into this? In the end, we chose QFlex because of their flexibility.'
The VLS 30 arrays, however, were the choice of the designer of the audio system, Harry Allison, who is director of design services at Waveguide's Atlanta headquarters: 'The ceiling and south wall of the Pavilion have some acoustic properties, but the remainder of the space is all glass,' he says. 'So there's only one hard wall between the museum and the new room. There's also a ramp that connects the Pavilion to the existing building and a large landing where they're going to hold events, but they can set up an event at either end of the room, so the system had to provide coverage and intelligible program and speech reinforcement for both levels.'
That task was made more difficult by third-party, solid surface actuators placed on the glass walls that provide a constant background of pre-recorded whale song throughout the space; an aural accompaniment to one of the main visual features of the pavilion, a 63-ft long fin whale skeleton suspended from the ceiling. 'The whale sounds are part of what makes the space feel alive,' Allison says. 'And they're always going to be in the background, but there's also a restaurant in the space so there was a lot of ambient noise that we needed to cut through.'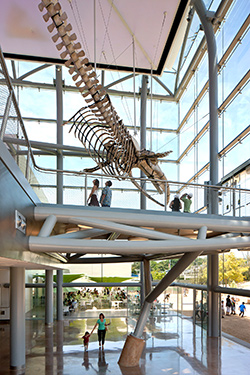 The digitally steerable QFlex 32 and FAST (Focussed Asymmetrical Shaping Technology) equipped VLS arrays provided an ideal solution in terms of both intelligibility and aesthetics: 'I have a lot of history with Tannoy,' Allison continues. 'I know their engineering is solid and I'm also a big fan of the QFlex Graphical User Interface. There are other beam steering products available, but QFlex seems, to me, to be the easiest, fastest way to get the results we wanted.'
The QFlex 32s are installed roughly 27-ft up on the upper level to either side of the entrance doors and the VLS 30s are hung on the walls to either side. 'Typically, the VLS are used for programme audio and the QFlex for speech,' Allison says. 'The Tannoy may also be used for the whale sounds. They have that capability and there's a little of that coming through the VLS 30s, but for the most part a sub and the speakers mounted on the glass walls are used for that.'
Consistency key to pairing the VLS 30 arrays with the QFlex 32s: 'I needed something that closely matched QFlex sonically and visually and I wanted to ensure that we could switch between them, one after the other or during an event, without people noticing. I could have covered the whole space with one line array in a corner, but we chose this solution to provide flexibility.'
Five CMS 601DCs are also installed below the ramp and landing roughly 10ft above the lower level floor to provide additional sound reinforcement. The Dual Concentric configuration of the CMS 601s was a major factor in Allison's choice: 'When I have the opportunity, I'll use the Dual Concentric loudspeakers, but I use regular CMS or Dual Concentric CMS loudspeakers depending on how critical the listening environment is and how high the loudspeakers are placed.'
Tannoy's willingness to send out a representative to optimise and tune the system was another consideration: 'I think it's important to mention that because it's something Tannoy will do,' Allison adds. 'Normally, I'd be on site, but there was no way I could be in California at the time of this project and I felt confident that they wouldn't leave until the room sounded great.'
Tannoy's PSU RS232 to VNet and VNet Interface Rack Mount also figure prominently in the level of flexibility the system provides, allowing technicians to control the loudspeakers from any data port linked up to the A/V rack. Those ports came into play during the final tuning of the system, Fleury says, explaining that though he'd been working on the project from September 2012 to shortly before the opening in June 2013, he had yet to hear the system in action, fully tuned and with the beam steering finalised: 'I set Tannoy's tech up with a network connection, he showed me the software, then I let him do his work and I went off to do mine. Within ten minutes, I heard these two giant steps and the room sounded like a train station. Then I heard him steer the sound to the midpoint of the room and down to the floor space and suddenly it sounded like I was listening to a pair of close-field monitors. I've never heard anything like it.'