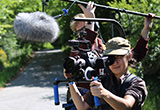 Recalling the work of pioneering ethno-musicologists, a 580-mile walk via 36 churches presents a daunting brief for a documentary project. This, however, is the goal of The Walk to Fisterra, which involves an acclaimed cellist, a Grammy award-winning recording engineer and an enthusiastic team of assistants.
The journey is being undertaken by Dane Johansen, who will perform Bach's Six Suites for Solo Cello at each stop, while the team documents his endeavour.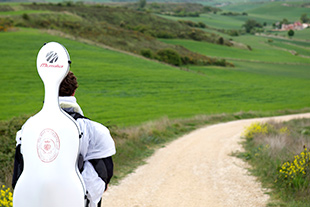 Travelling the Camino de Santiago – a pilgrimage route through France and Spain – sound engineer Kyle Pyke, and music producer and co-sound engineer Jesse Lewis will be recording in 36 very varied buildings with contrasting acoustics – challenging performer and engineering team alike. Lewis introduced Pyke to The Walk to Fisterra. In turn, Lewis had been approached by Johansen to be part of the team, because they had studied together at the Cleveland Institute of Music.
It was decided early on to make the recording in DXD (24bit/352.8kHz) as the best combination of high-resolution audio and easy postproduction workflow, but even with an identical recording rig, the venues are likely to offer different results, so as part of the project, impulse responses are being recorded at each church.
'The loudspeaker will send out a signal for 30s, starting at 20Hz and running up to 20kHz,' Johansen explains. 'That signal will bounce off the walls of the church and come back to be absorbed by our microphone array. We will use the information collected to create a three-dimensional sound map of the acoustic space, enabling us to recreate that sonic space for audiences in the future.'
'Genelec signing on as one of our partners was a huge step forward for our project,' adds Pyke. 'Their monitors can be found in nearly every recording studio in the world, and knowing that we have an industry standard speaker to run our impulse response sweeps gives me confidence that we will capture the most accurate response from every hall.'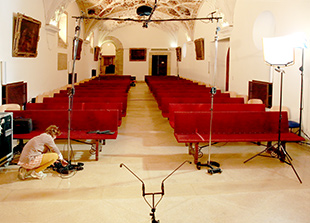 Merging Technologies' Horus was chosen to provide high-quality mic preamps and AD/DA conversion for a selection of DPA microphones. 'We're using the Horus system as our main recording interface on The Walk to Fisterra,' Pyke confirms. 'The interface is incredible in its audio quality and flexibility of I/O.
The microphone selection includes DPA's d:dicate 4007A Omnidirectional mics for location recording, and a combination of d:dicate 4011F Cardioid Podium and d:vote 4099 Instrument mics for close pickup of the cello. In addition, d:mension 5100 Mobile Surround and d:dicate 4017B Shotgun mics will capture ambience along the trail, while d:screet 4061 Miniature mics pick up dialogue.
'DPA was our top choice for microphones to record the audio for this journey,' Pyke says. 'When we were specifying out what we might need for the project, we enlisted DPA Microphones to be our exclusive mic partner. The reason is pretty simple, not only does the company's catalogue offer everything we could hope for, and more, in terms of microphone quality and detail, but DPA itself embodies an open, adventurous approach to pushing the industry forward, which is an intrinsic quality of The Walk to Fisterra.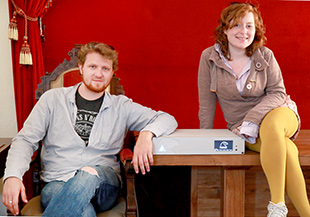 'DPA's accessories also give us configurability, the vast microphone line gives us a freeing flexibility – which is something we especially need on this journey – and the capture of speech, ambience and music is lifelike and pristine,' he adds.
As Johansen performs at churches along the route to Fisterra, his team will produce recordings and sound maps of each location, which Lewis can then use back in the studio to recreate the audio during film screenings or as background for Johansen's live performances. 'When we are on the road, it's important to make sure that nothing is lost due to noise or lack of detail,' Pyke says. 'We're very happy with our selection of DPA mics, which ensure we keep the natural sound of the instrument intact during the recording process.'
To record in the older venues, Pyke will use the cardioid DPA d:dicate 4011F and d:vote 4099 mics, to capture sound directly off the instrument. The 4011F will highlight the sound around the cello, while the d:vote 4099, much more natural sounding than any internal microphone or pickup, will be mounted directly on the cello to accurately record the instrument while rejecting unwanted noise. Pyke also plans to use his DPA d:dicate 4007A Omni mics to capture building reverberation in surround sound. The set-up uses a Decca Tree in front, with two mics spaced at a variable distance and width, to give a sense of depth.
'The 4007A's flat response across the frequency spectrum is the perfect tool for capturing the true sound of the hall in both musical recording and impulse responses,' Pyke says. 'The 4011F offers a colourless pickup yet still retains its musicality, while the 4099 is conveniently small and unobtrusive without losing any detail. Additionally, the 5100, which we use to capture ambience in the venues, offers incredible audio quality in a rugged, easily mounted microphone design.'
To capture dialogue and ambience of the journey, Pyke is using a combination of a d:mension 5100 Surround, 4017B Shotgun and several d:screet 4061 Miniature mics. The d:mension 5100 is packaged for recording surround on the road, and can be mounted to a camera or boom, while the 4017B shotgun offers clear directional sound regardless of environmental conditions. The d:screet 4061s, though tiny, produce an accurate omnidirectional pattern without need to be aimed directly at the sound source.
Pyke is assisted in his role by fellow Berklee student Beth Schofield, a graduate of the Royal College of Music, who will handle the field recording, boom operating, interviews and Foley. She is also helping set up for the concert recordings, which will appear on the documentary as well as on a separate album release.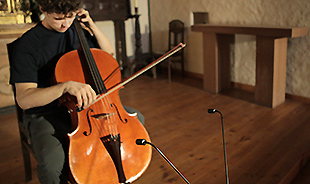 The team aims to arrive in Fisterra on 25 June, with performances attracting healthy audiences along the route to the final venue, Santiago de Compostela. This is highly appropriate since these pieces had almost disappeared until rediscovered last century by noted Catalan cellist, Pablo Casals.
The task of editing and mastering the wealth of material will benefit from Lewis' experience of recording in many different venues. 'Capturing music is an unsatisfying process,' Pyke says. 'To recreate the actual experience of being there is impossible – except with Merging Technologies' Pyramix and Horus system, which gives us the most astounding purity and transparency, AD converters that somehow sound analogue. How is it possible? I don't know. Pyramix is the secret weapon of production tools – my only production tool.'
The Walk to Fisterra was inspired by Johansen, who feels that it reflects his relationship with music – the dedication needed to perfect the Bach Suites requires an artist to pursue a singular goal, like a pilgrimage. He intends the performances of Bach's music, and visits to mentor young cellists in schools along the Camino the route, to inspire the communities he encounters.