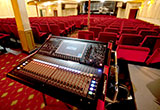 Dating from 1839 as the Melbourne Mechanics' Institute, the Melbourne Athenaeum is among Victoria's oldest public institutions. In 1873, it became the Melbourne Athenaeum and was the first theatre to screen a movie in Australia. In 1921, it began hosting theatrical and creative performances.

Today, it is home to the Melbourne Theatre Company, as well as hosting comedy, theatre, opera, acoustic and amplified concerts, and musicals.
Due for a complete sound overhaul, Athenaeum co-owner Glenn Elston needed an audio system that could accommodate the venue's variety of performances, while being easily reconfigured by in-house tech staff. As the Athenaeum is a heritage, 'wedding cake style' theatre, however, it does not accommodate large sound systems readily – either flown or groundstacked.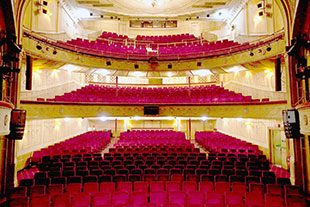 The solution lay in a combination of distributed and small form-factor systems from Coda Audio, Camco amplification, mixing from DiGiCo consoles, plus DSP from Xilica Audio Design and Apex Audio. This, combined with a thorough infrastructure update, gave the Athenaeum enough flexibility and power to cover all eventualities. The concept was to use a high-powered distributed system that would not impact visually on the theatre, but allow zoning and system configuration to serve a wide variety of clients.
Adopting a Coda system ensured that the theatre's interior wouldn't be compromised by huge speaker footprints. Additionally, with the entire Coda range using BMS drivers, voicing uniformity was ensured across the models used in installation. This is critical in theatre installations, to maintain dispersion and tonal evenness throughout the venue.
The installation was carried out with a high level of configurability and forethought, in order to follow the Athenaeum's versatility as a venue. Melbourne's RTR Productions carried out the installation of the system. 'RTR really had their hands full with a theatre like the Athenaeum,' says Group Technologies' Drew Menard. 'It was obviously from an era where cabling and rigging weren't meant to be easy.'
Putting in new cable runs meant having installation technicians crawl through extremely tight spaces. Many installers would have gone with surface-mount conduit on each level, but that was unacceptable to RTR: 'Having high-performance speakers this small meant that we could put them in some fantastically tight locations. Luckily, Mitch was a master at ferreting out ways to get through the walls.'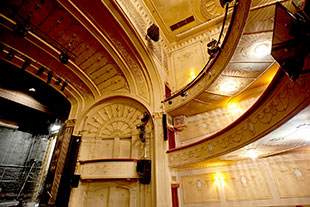 After consultation with Matt Hanson from MPH Australia regarding rigging, Menard reports: 'Matt is one of the most respected riggers in the country, and had no problems dealing with the Athenaeum's intricacies. All of the original structural members are enormous timber beams. Even in a building as old as this, Matt was millimetre perfect.'
The main front of house PA includes four Coda LA4 modules and an LA4 Sub flown per side. Four further LA4 subs are also installed along the front of the stage. The LA4 is a miniature line array system that features two 5-inch neodymium BMS drivers and Coda's 4-inch neodymium planar wave driver. The result is a highly efficient and scalable array system capable of very high output for its size. Front fill comprises four D5 Cubes, which are installed against the front lip of the stage, with proscenium fill handled by a single Coda G712 per side. The Coda G712 speakers are a full-range, three-way speaker system using a 12-inch neodymium driver and a concentric 1.4-inch/1.75-inch driver. The delay for the stalls is provided by four D5 Cubes, which are spaced evenly from left to right, halfway down the theatre.
Level best
The dress circle on the second level has a different layout from the other two levels, and needed a different approach. While both the ground floor and the upper level feature long aisles with plenty vertical height, while the second-level dress circle has a very narrow vertical opening between the two balconies. There is a strong rake to the seating, which made it challenging to get high frequencies to the back of the area. Instead of installing an LA4 line array, which was chosen for the ground floor and the upper dress circle, two Co-Ray column speakers per side were used instead. These line source columns feature the same drivers as the LA4, but are used as two single line source columns. In this configuration, the two columns flown top-to-top feature a vertical dispersion of 22°, while the adjustable horizontal dispersion of the Co-Ray ensure a full, focused sound can be provided to seats in the dress circle without causing any line-of-sight issues, and help minimise reflections from the side walls. An additional four D5 cubes were also used for delays, to reach up to the walkway behind the raked seating.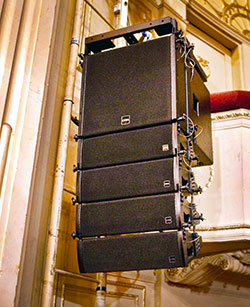 The upper balcony includes a similar set-up to the stage level system, and includes four LA4 modules and an LA4 Sub flown per side as well an additional four D5 cubes for delay. The D5 cubes are a concentric 5-inch/1-inch coaxial speaker with an exceptionally small footprint and high output. In the Athenaeum, they have been installed either by themselves or on truss between lighting fixtures throughout the theatre. This ensures a low visual profile.
The system's versatility is achieved through Coda and Camco amplification, coupled with Apex and Xilica system management.
There are 16 speaker zones throughout the venue and each speaker zone is fed by one of Coda's DNC260N controllers, bringing proprietary advanced DSP and speaker management to each zone. Four Apex Intelli-Z2 4-in/8-out digital processors then provide frontend control for time alignment, system tuning and EQ. To manage all the matrix feeds, one of Xilica's latest digital audio processors, a Neutrino A-1616, has been installed. This is an open-architecture 16 x 16 40-bit, floating-point processor, and is configured with room presets comprised of different speaker configurations depending on show requirements. This allows the in-house technicians to decide on different tuning presets to suit a client, and also to mute zones depending on what parts of the theatre are being used. This is achieved via a Xilica MiniS8 wall panel, with eight buttons that can be programmed by dragging a parameter on the panel using Xilica's NeuConsole software.
'The main reason we opted for the Intelli-Z2 was not only its quality but the fact that it is really easy to use, allowing for simple preset creation and recall,' says Group Technologies System Tech Paul Mossop. 'The parametric EQ sounds great – which makes it perfect for tuning, particularly in theatres. The analyser bridge lets you connect to Smaart easily for timing and measurement. Sonically, it's really accurate and considering it runs at 192kHz, its impressively low on latency. The Intelli-Ware remote software interface is also excellent which is so important these days.
'The units can be linked together right out of the box without the need for additional hardware,' he continues. 'This is very clever design-wise and the connectivity between devices made setup really fast. Being able to copy settings from one unit to the other is something that not many units allow for and it makes things really efficient, particularly in an installation like this where several units are used.'
'Remote monitoring over IP is great when a system tech requires support or changes need to monitored remotely,' adds Group Technologies' Drew Menard. 'This is a huge advantage in providing solutions extremely fast and from virtually anywhere. Having the ability to lock the units off so that they can't be tampered with as well as the extensive system logs which the Apex handles are also excellent.'
Amplification across the system is handled by Camco Vortex 6 amplifiers for the arrays and columns, a Camco DPower4 amplifier for the G712s in the proscenium, and Coda C5 amplifiers for the D5 cubes.
With the room configured with several preset options, Elston has been impressed with the quality of sound and the simplicity of operation: 'It's great to just be able to walk in, turn it on and have world-class sound without having to do anything except flick a switch,' he says. 'I am really happy with everything.'
Mix and monitor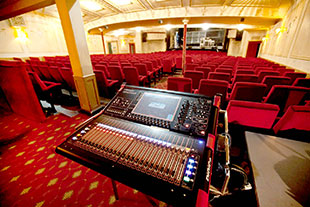 Mixing and monitoring duties are handled by a DiGiCo SD9 digital console and two D-Racks. Since the installation, Athenaeum technicians have found the 64 mic inputs onstage more than enough to cover their needs. There are 24 outputs onstage as well, which can be used to feed four sends to Nexo PS10R2 wedges or multiple sets of in-ear monitors.
The SD9's flexibility is paramount to enabling the Athenaeum caters for the many different types of shows. With 16 (and soon to be 24) stereo buses able to be either groups or auxiliaries, and an additional 12x8 matrix, the SD9 is equally able to handle rock, drama and musical theatre. That's before considering the future upgrade path offered by dedicated theatre software. The DiGiCo T software has been developed with leading West End sound designer Andrew Bruce and has been used on countless productions including Miss Saigon, Jersey Boys and Warhorse.
'The installation was done really well,' Elston says. 'It fits with the venue aesthetically – the column speakers on the balcony follow the lines of the building perfectly. It doesn't intrude on the interior of the theatre at all.'
In addition to equipment, Group Technologies specified a substantial infrastructure update. This included the speaker cable runs, as well as analogue signal, Madi, video BNC, Ethernet, DiGiCo Cat5e and power cabling between the stage patch position and front of house. Further additions to make a technicians' life easier included rackmounted three-phase power distribution, and a rackmounted PC, screen and keyboard for system editing. This enables touring shows to use in-house cabling for all FOH cable runs, and any other mixing console if desired. All this has been done to allow simple reconfiguration from a standard LR input patch, to full 16-input matrix patching for musical theatre. Combine this with the SD9T's matrix nodal delay, and the designers have complete – and automatable – control over audio and effect placement.
Since the installation, the Athenaeum has received rave reviews and positive feedback from theatre companies, bands and engineers alike: 'The sound is absolutely brilliant,' Elston says. 'We have been receiving regular compliments from clients and patrons. It's just fantastic.'