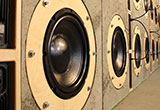 Freshly refurbished, Club Sub offers Austrian clubbers a new experience in low-frequency sound. It Wall of Bass can deliver 7Hz in support of live and DJ music, arts presentations and theatrical performance.
And since the 300-capacity venue is located in a heavily populated residential area of Wiener Neustadt, heavy emphasis needed to be placed on acoustic isolation to avoid noise pollution.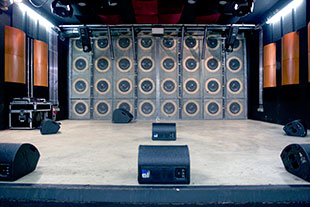 Managing the project were Wolfgang Sauter from Pro Performance and Reinhard Nell from Lambda Labs. 'The owners' goal was to achieve a similar sound performance as in the Grelle Forelle Club in Vienna,' says Lambda Labs Director, Steffen Kroschel. 'When Mr Sauter surveyed the building, with its tube like architecture, the abstract idea of a vibrating wall became logical.'
Sauter contacted Lambda Labs where Nell generated simulation data, parameters and measurements – applying his knowledge of high performance concrete 'closed box' enclosures and amplification. Loudspeaker drivers were the developed for the application, going through ten prototype stages, while the club owners helped with casting the concrete loudspeaker enclosures.
Behind the 6m x 5m stage, 400kg concrete blocks were cast and set into a 6m x 3m wall using 13 tons of heavy concrete and a further 35 tons for the foundation – requiring a monumental effort. 'It was extremely difficult to handle these enclosures with small forklift trucks and build the 500mm deep low frequency absorber,' Kroschel reports. 'Behind the wall is sand, and under the wall, Mr Sauter chose material that is used for highway construction.'
Each concrete block serves as loudspeaker enclosure with pressure-resistant rear chamber which implements the perfect impulse response of a 'closed-box' design and maximises the resistance of the woofers through the acoustically hard surface. A 15-inch speaker was produced and adapted to the unusual demands of this project. The single chassis are designed to act together as one single swinging wall – in a similar principle to a piston in a cylinder.
'A perfect plane wave is created in the interior of the club, which naturally moves along the side walls and doesn't induce any room modes,' Kroschel says. 'The rear of the main floor was converted into a single bass trap to absorb the incoming wave. Club Sub thereby achieves an acoustical result that could never be reached even outdoors.'
With virtually no noise spill into the outside world both Nell and Sauter, agree that 'such an operating range and evenness of the low frequencies is overwhelming'.
Driving ambition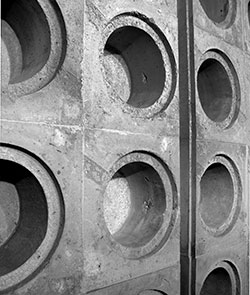 To achieve this performance, every driver needed be powered by its own dedicated amplifier module to take advantage of short cable runs, perfectly matched power supplies and impedance data. As a long-term partner of Lambda Labs, Nell chose Powersoft to provide amplification for the Wall of Bass while Lambda Labs supported the installation with amplifier mounting frames.
'As we have been using Powersoft amplifiers in our regular self-powered loudspeakers for four years, it was obvious to choose the company for this project as we have a lot of experience with their modules, such as the Digimod 1500, which we use successfully in our subwoofer product MF-15A and our full range enclosure TX-3A,' Kroschel says. 'The amplifiers deliver stable power also in the low-frequency range, are small and lightweight, and fulfil most of our demands regarding sound quality. For the project, we used the D-Cell, because it is very compact and still delivers plenty of power.'
The 32 Lambda Labs OEM CX 15-inch ultra-long excursion drivers (with ±25mm linear excursion capability) were set in housings made from special concrete. Each is driven by 800W amplifying modules, with the maximum desired SPL reached at an excursion of only ±3mm. In this way, the Wall of Bass manages with only 500W peak music power during operation, which sets new standards of energy efficiency.
Via the two-channel 32 D-Cell504 IS amp modules, Powersoft was able to deliver 25.6kW power, including 4-inch voice coil with custom made venting system using hardened membrane. In addition, special mid-high loudspeakers generate a cylinder wave for longer throw and minimal room reflection, while the DJ reference sound is provided by CX-1A and CX-3A self-powered monitors with Powersoft D-Cell modules.
'The data we measured melts in one's mouth,' Nell says. 'The sound pressure level is beyond 140dB and absolutely equal at any point in the room (not that anyone would need such sound pressure levels). And you don't have the possibility to feel 7Hz throughout your whole body every day.'
Kroschel says that everyone who has played through the system has been hugely impressed: 'For some it has changed their awareness of music. 'Although we have not been able to find movie soundtracks with lower frequency response than 20Hz, during our live presentations of the Wall of Bass, we play an original recording of a Challenger rocket launch, to give a natural idea of the breathtaking force. Another show element was to generate some sine waves down to 7Hz, demonstrating this outstanding response by also making the acoustic waves visible with smoke.'
The installation has also attracted interest from cinema exhibitors and other club owners. 'Some people think this has to be very expensive – but it costs the same or less than other high-end installations, depending on room size and situations.
'If the Wall of Bass is capable of being integrated, due to the building's architecture, the installation will result in absolutely perfect performance which can be adjusted to non concrete solutions. We now plan to realise some international projects to show the world what can be done with sound.'