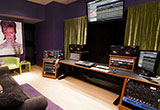 A new audio school has opened its doors alongside one of the world's leading recording studios.

Blackbird Studio owner John McBride has recruited industry gear experts, musicians and educators Kevin Becka and Mark Rubel to Nashville to help create a new studio and curriculum and realise his vision of The Blackbird Academy, Professional School of Audio...
The academy will draw on its history, expertise and industry connections to offer three courses, totalling more than 720 hours of coursework. Class sizes will be small and will feature extensive hands-on time, including time in two of Blackbird's eight recording studios, now reserved exclusively for educational use. The classroom space was created by interior designers Robert and Cortney Novogratz of the HGTV television show, Home by Novogratz.

'Experience-based' education will be offered by industry veterans, professional instructors and award-winning guest presenters. 'Mentoring has become an important part of my life, and the opportunity to work with motivated, passionate students is a wonderful thing,' McBride explains.
The new Studio I has been completed, and a special classroom, the 'music recording lab' that seats 30 students, is up and running. Here, an API 1608 analogue mixing console will be central to the courses: 'We chose the API for a number of reasons,' says McBride. 'The console is easy to use, it has a great sound, and it's an excellent tool to teach students signal flow. We already have a couple of 1608s at Blackbird, and we're very happy with them. Moving forward with the Academy, we wouldn't have it any other way.'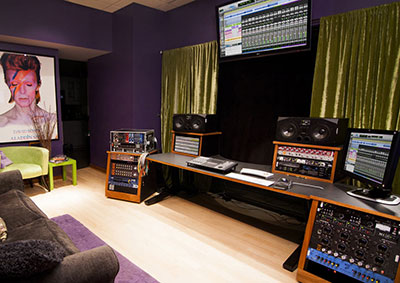 Kevin Becka chose a selection of Dangerous Music units for the new studio, including the 2-Bus analogue summing mixer, Liaison programmable analogue router, BAX EQ and the Monitor ST monitor controller to run with an Avid Pro Tools|HDX recording system. Together, this set-up offers a hybrid analogue and digital experience for the students, a reflection of today's direction in recording studio design.
'We have a sizable Pro Tools|HD rig with the HDX card wired for 48 channels, but we are starting with 32 ins and 32 outs,' he says. 'I figured linking two 16-channel Dangerous 2-Bus summing systems would do the trick. The patchbay, created by Mike Rhodes of SkinnyFish Studio Services, is set up for mixing, with Pro Tools normalled to the 32 channels of Dangerous 2-Bus, but we can reconfigure the inputs easily for tracking.'
Although the new room is designed for stereo, Becka didn't want to rule out expansion in the future: 'We have the Dangerous Monitor ST, and while right now we're not in surround, that room has potential for expansion. All we'd have to do is buy the SR surround expansion option for the Monitor ST, so it's future-proof.'
Becka also outfitted the new Studio I with the Dangerous Liaison programmable analogue router: 'The Liaison gives us the ability to patch different pieces of gear into a chain and then swap the order around, take a piece of gear in and out, and A-B it.' Becka points out the instructional value for students of easy and quick comparisons of different pieces of gear – their sound, the difference they make, and even in which order they are inserted.
Ears on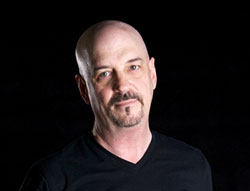 'Part of what we're going to teach at The Blackbird Academy is what we call Ears On challenges,' says Becka. 'The students are going to be able to hear and compare plug-ins modelled on a piece of gear versus the actual piece of gear – like a Fairchild – that we actually have at the studio. They will also listen to and compare the differences between microphones, for example a company's attempt to make a microphone that "sounds like" a Neuman U47, versus a real U47. There are many opportunities to do these Ears On challenges, and the Dangerous Liaison will make this possible and instructive for the students.'
'The other piece of gear from Dangerous I love is the BAX EQ,' he says. 'Because of what it lets you do on the filtering end, taking out frequencies at the extreme ends of the spectrum and giving yourself more headroom. And also to put that really nice 'smile' on a mix, where you're just boosting the low-end and boosting the high-end. We're also teaching a little bit of mastering, and the BAX EQ takes us into the mastering realm - there has to be a little bit of a finish on your final mix, and the BAX EQ is a really simple and great-sounding way to do that.'
McBride says he's bringing the excitement he's had working with studio interns to the Academy students: 'Occasionally we do sessions with the interns so they can get more experience. When you see that light go off in their eyes, that is one of the greatest feelings I've ever experienced. I love passing down knowledge and helping someone learn more about what they love.'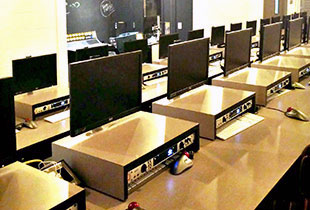 'We want to give the greatest education possible, in the shortest period of time, for the least amount of money possible,' he adds. 'The Blackbird Academy has a fairly intense six-month programme. With the curriculum, and the quality of the instructors along with incredible guest lecturers, the students are going to learn a lot of different ways to record audio. I want our students to learn from people who make a living in the business every day doing exactly what they want to do. They will have the knowledge they need to have a career in audio and become their own engineer, their own person.'
Commenting on his own experience in the music industry, Becka outlines his outlook: 'I've seen the changes in the industry – how it's evolved with the monolithic studio model and desktop model running in parallel. We teach both models here at Blackbird. In building this curriculum for The Blackbird Academy, we decided to incorporate both workflows because that's what students are going to see, that's the reality of production now.
'Good is the enemy of great,' Becka adds, considering both the quality of music and the gear chosen for The Blackbird Academy. 'We're striving for greatness here. We want to make people go wow when they hear a recording. We want to inspire people. We have so much passion about audio.'
Mark Rubel and Kevin Becka are co-directing Blackbird Academy, which began operation with a three-day summer camp designed for high school students. The Academy's debut Studio Engineering Program kicked off in September 2013 and will run for around 24 weeks