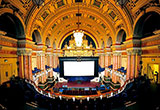 As in recent years, Pro Audio Systems has provided the audio technology for the Leeds International Film Festival's main venue in the Leeds Town Hall.
The system relies on Meyer Sound – a pair of UPA-2Ps for main LR and UPA-1 for centre channel, two 700HP subs in a cardioid pattern and eight UPM-1Ps for the LR surround. The large balcony requires a supplementary flown systems of two UPA-2Ps and a UPA-1 for LCR, plus six UPM-1Ps for surround.
Begun in 1987 by a small team of volunteers at the Hyde Park Picture House, LIFF Director Chris Fell describes its main aim as, 'to share the best of new world cinema with as big an audience as possible.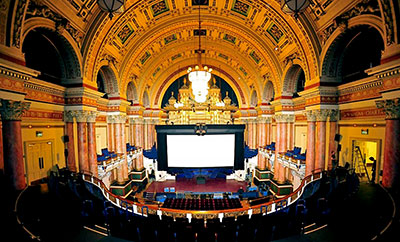 'We're not an industry festival, in that we're not here for the film industry as such – as part of Leeds City Council our remit is to present events for the public and show them the huge diversity of world culture,' he continues, speaking on the eve of the event. 'This has always been our primary goal, and it is what our audiences want, because they are looking for alternatives to mainstream cinema. The majority of the films shown during the festival will not have been seen here before, and in most cases cannot be seen anywhere else in the UK.'
From its second year (and since) the festival has been supported by the local council, which makes it unusual among such events. That is a key factor in its success and longevity because it extends beyond funding to include subsidised provision of venues, lots of support, marketing and operational staff and much else – according to Fell it's 'like one big family getting together to make the festival happen – as it was at the start – but now on a much larger scale. The local council input has enabled the festival to grow and keep growing, to the point where it now encompasses four main venues, including a new one for this year, the Everyman Cinema, where 'Gravity' was shown in 3D as the opening film of the 2013 festival. Films are also screened in various bars, clubs and libraries throughout the city.
Compiling its programme, LIFF receives around 2,100 feature films, documentaries and 'shorts' from filmmakers in more than 60 countries in the submission period between January and August. 'Every one is reviewed by our team,' Fell explains. 'We also seek material by proactively researching the world film market, but the goal is the same – bringing people films they mostly could only see here'.
The festival programme is diverse and comprises includes five main sections – 'Official Selection', 'Retrospectives', 'Fanomenon', 'Cinema Versa' and 'Short Film City'.
'Retrospectives' is an example of how the festival is structured to achieve its stated aims, as it includes around 30 classic movies chosen mainly because they're well known but haven't been screened anywhere like the Town Hall before – this year including the 1949 Carol Reed British film noir classic The Third Man. More unusually, programme this year includes a season of films by Japanese filmmaker Masaki Kobayashi. 'His films are hardly ever shown in cinemas outside of Japan and you can't really get them on Blu-Ray or DVD either,' Fell explains. 'We've imported them ourselves, with some assistive funding from the Japan Foundation, so it's really a unique opportunity for people here to see his work'.
The scale of the festival is impressive. Across two weeks, some 35,000 filmgoers watch over 300 films with the Town Hall being the most popular venue. Although the purpose of the festival is resolutely non-mainstream, the programme does include some broad-appeal, Hollywood films, but even these are chosen with care: 'We opened with Gravity (2013, directed by Alfonso Cuarón) this year, which is technically mainstream but really it's quite experimental, a genuinely interesting and big-risk idea – when we choose mainstream films we only choose those that are a bit different. Another example is All Is Lost (2013, directed by JC Chandor), which stars Robert Redford as a sailor lost at sea and which features almost no dialogue – in fact it's been described as Gravity at sea. Its reviews were as good as those Gravity but what attracts us is that it takes some risks'.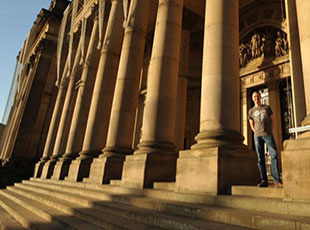 Paradoxically, the audio infrastructure in the Town Hall has to be toned-down for some of the classic movies, as the makers of films in the 40s and 50s had no way of knowing what 21st century audio technology might be able to do for them, but more relevantly the audiences who enjoy those movies in that extraordinary setting won't be expecting (or wanting) super high-definition multi-channel audio. Fortunately achieving this is relatively straightforward for the audio technicians.
One classic that does benefit from the modern technology is Stanley Kubrick's 2001:A Space Odyssey, which returns to LIFF 2013 due to popular demand, having been part of the 2012 programme.
'The films that get audiences excited here tend to be those with great soundtracks,' Fell says. '2001 is amazing because there's relatively little dialogue but lots of wonderful classical music and it sounds superb.'
Where does LIFF go from here?
'We think we've got the formula right, because the audiences keep growing and they love what we do – every film we show has a ratings system where audiences score films on a scale of one to five and the ratings across all films keep improving,' Fell replies. 'So as far as the festival itself is concerned it's a case of maintaining our strategy, but the exciting challenge for us now relates to the city itself because Leeds is changing and developing very fast.'
'For example, five years ago we started using the Town Hall as our main venue, and this year the Everyman Cinema has become part of the festival. Perhaps in the future there might be a great outdoor space we could use, or see more cinemas built, or perhaps a new multi-arts venue, who knows? The key for us is to keep adapting to the changes and new opportunities that Leeds is delivering.'
More: www.proaudiosystems.co.uk
More: www.meyersound.com
More: www.leedsfilm.com