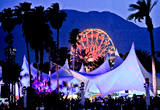 US sound reinforcement company Rat Sound used the Gobi tent at the 2013 Coachella Valley Music and Arts Festival to put EAW's new Anya loudspeaker system through its paces – the first use of the system for a public event.
'Dave and Jon worked with the final prototypes and asked if they could use the first 16-module at Coachella,' says EAW President, Jeff Rocha. 'We were thrilled to showcase our new product at one of our industry's most demanding events.'
Rat Sound principals Dave Rat and Jon Monson has previously worked with EAW on the MicroWedge line of stage monitors, and were part of the R&D effort behind Anya.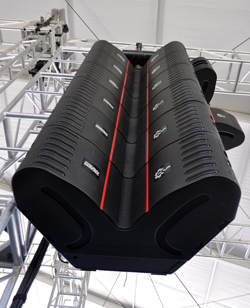 Like Martin Audio's MLA, Anya marks a departure from the established line array. Using a technology platform that EAW calls Adaptive Performance, this allows an Anya array to generate virtually any three-dimensional wavefront surface and simultaneously optimise the system frequency response to match the optimal requirements of any venue. Its high-resolution of transducers are sized to reproduce their target bandwidths. 'Gone are the break-up modes of large-format compression drivers,' Rocha says.
'Each Anya module incorporates a sophisticated acoustics package that includes 22 transducers that are independently driven by 22 amplifier channels and 22 channels of DSP,' he explains. 'The horizontally trapezoidal columns hang straight, allowing out fill arrays to hang adjacent to the mains. Gaining so much control over so many devices means that small relative processing differences between neighbouring devices result in significant changes in three-dimensional directivity while maintaining an extraordinary impulse response.'
The development and use of these drivers played a critical role in delivering the fidelity EAW sought from a large-format system: 'The basic un-adapted acoustics package is outstanding, so beyond the application of EAW Focusing, only minimal processing is required to deliver some radical changes to the shape of the wavefront' Rocha says. 'Despite the abundance of onboard DSP, Anya does not suffer from the tonal degradation associated with overly processed sound systems because the relative change from device to device is very small. And Anya tailors coverage so precisely to the audience area that the impact of room acoustics on fidelity is significantly reduced. Taken together, these factors produce an infinitely scalable, large-format system that has the impact of a big PA but the fidelity of an enormous pair of studio monitors.'
Adaptive Performance also allows a system's coverage and output characteristics to be modigied in real time without moving or changing the physical array. As the venue, trim height, audience area, performance location, environmental considerations or atmospheric conditions change, Anya can be made to respond.
Festival fervour
Held at the Empire Polo Grounds near Palm Springs, the Coachella Festival features two massive outdoor stages and three large tent stages – the Gobi tent's audience area measures roughly 165-ft by 200-ft deep (50m x 61m). With performances running from midday until past midnight three days running on back-to-back weekends, weather conditions ranged from 50°F to 100°F and included 'a once-in-a-decade' dust storm.
The Gobi stage hosted 37 performers each weekend, with wide ranging musical styles – from Lee 'Scratch' Perry through Spiritualized to OMD – giving the sound team a good testing ground.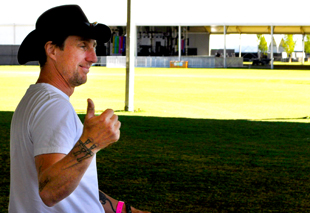 The original PA plan included out fill columns of two Anya modules each. On site, the combination of a low truss and high video screen meant that the screen obstructed the lower Anya module. But Anya's Adaptive Performance enabled EAW's engineers to rectify the situation in a matter of minutes by updating the Resolution software model and allowing Anya 'to do the rest'. The resultant loudspeaker set-up saw seven Anya modules per side, with a single out fill module flanking a main column of six.
'With Anya, the system can be flown first, even without modelling,' Dave Rat explains. 'There are no box-to-box angles, and the trim height can be determined by sight lines in real time. After the system has been flown, I can simply place mics where I want the upper and lower coverage limits to be. Anya can precisely locate the mics and then cover the space in between. I am certain that being able to alter vertical coverage and vary the audio energy sent to different areas in real time without making any mechanical changes will prove advantageous in many applications.'
In addition to the seven Anya modules per side, the Coachella system included 16 SB2001 dual 21-inch subwoofer systems in spaced cardioid arrays, and six KF364NT powered three-way systems for front fill. In addition, ten EAW MW12 MicroWedge stage monitors provided for the performers.
'The Anya system sounded great and did an excellent job of covering the space,' Rat reports. 'It is really exciting to have a hands-on experience with a new technology system thrown right into a challenging, real-world application. It's especially interesting that even though this was the first time this system was deployed, we were able to hear a wide variety of engineers mix on it.
'Anya offers many features that I find very interesting and desirable – primarily, the ability to completely overhaul the workflow of setting up large-scale sound systems. Currently, line array systems require significant time and effort spent on room modelling and precision box-to-box angles prior to flying the sound system at the predetermined accurate trim height. If there is a miscalculation, the sound system must be lowered and rehung.'
Specifically, the Coachella testing has justified Rat's involvement in Anya's development and Rat Sound's commitment to using it: It became readily apparent that Anya is positioned to become a world-class system,' Rat says. 'Anya fulfilled its sonic and performance expectations, solidifying Rat Sound's commitment to take delivery of the first 40 production units in June.'